Lewis Hamilton recorded a hat-trick of victories and Mercedes one-two finishes at a canter as he led from start to finish at the Chinese Grand Prix, ahead of team-mate Nico Rosberg and Fernando Alonso.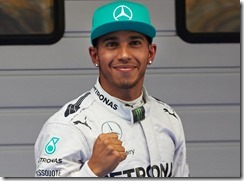 Rosberg fought back from a poor start to finish second, while Fernando Alonso earned Ferrari's first podium of the season in third, having resisted increasing pressure from Red Bull's Daniel Ricciardo in the race's closing stages.
Hamilton effectively had the race won after beating everyone else off the line, with his lead a massive 13 laps at mid-distance as Mercedes executed a flawless two-stop strategy. He only came off track once, sliding off a Turn 14 as his tyres went off before his first pit stop. Rosberg recovered from a poor start to complete a one-two finish, while Alonso held off a spirited charge from Daniel Ricciardo in the closing laps to record a memorable podium for Ferrari following the resignation of Stefano Domenicali on Monday.
Sebastian Vettel had to settle for fifth behind his team-mate for the second weekend in a row, and appeared to initially refuse a team-order when told to let Ricciardo through during his second stint.
| | | | |
| --- | --- | --- | --- |
| Pos. | Drivers | Teams | Time |
| 01. | 44 – Lewis Hamilton | Mercedes AMG Petronas | Winner |
| 02. | 06 – Nico Rosberg | Mercedes AMG Petronas | +18.6 secs |
| 03. | 14 – Fernando Alonso | Scuderia Ferrari | +25.7 secs |
| 04. | 03 – Daniel Ricciardo | Red Bull Racing | +26.9 secs |
| 05. | 01 – Sebastian Vettel | Red Bull Racing | +51.0 secs |
| 06. | 27 – Nico Hulkenberg | Sahara Force India | +57.5 secs |
| 07. | 77 – Valtteri Bottas | Williams Martini Racing | +58.1 secs |
| 08. | 07 – Kimi Raikkonen | Scuderia Ferrari | +83.9 secs |
| 09. | 11 – Sergio Perez | Sahara Force India | +86.4 secs |
| 10. | 26 – Daniil Kvyat | Scuderia Toro Rosso | +1 Lap |
| 11. | 22 – Jenson Button | McLaren Mercedes | +1 Lap |
| 12. | 25 – Jean-Eric Vergne | Scuderia Toro Rosso | +1 Lap |
| 13. | 20 – Kevin Magnussen | McLaren Mercedes | +1 Lap |
| 14. | 13 – Pastor Maldonado | Lotus F1 Team | +1 Lap |
| 15. | 19 – Felipe Massa | Williams Martini Racing | +1 Lap |
| 16. | 21 – Esteban Gutierrez | Sauber F1 Team | +1 Lap |
| 17. | 10 – Kamui Kobayashi | Caterham F1 Team | +1 Lap |
| 18. | 17 – Jules Bianchi | Marussia F1 Team | +1 Lap |
| 19. | 04 – Max Chilton | Marussia F1 Team | +2 Laps |
| 20. | 09 – Marcus Ericsson | Caterham F1 Team | +2 Laps |
| 21. | 08 – Romain Grosjean | Lotus F1 Team | RETIRED |
| 22. | 99 – Adrian Sutil | Sauber F1 Team | RETIRED |