The free practice three started here at the Nurburgring and the Force drivers lead a host of others onto the track and Perez is the first man looking to do a flying lap.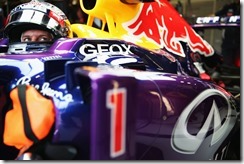 No major issues on the track but during the session both Lewis Hamilton and Pastor Maldonado complained about their cars and said that cannot drive them.
Alonso was the first man on the soft tyres and he stopped the clock at 1:30.621 but just a few laps later Webber and Rosberg improved on his time while in the dying minutes of the session Sebastian Vettel placed himself in P1 with a breath-taking time of just 1:29.517.
Here are the full results:
| | | | | |
| --- | --- | --- | --- | --- |
| Pos. | Drivers | Teams | Time | Laps |
| 01. | Sebastian Vettel | Red Bull Racing | 1:29.517 | 19 |
| 02. | Nico Rosberg | Mercedes AMG Petronas | 1:30.193 | 19 |
| 03. | Mark Webber | Red Bull Racing | 1:30.211 | 18 |
| 04. | Fernando Alonso | Scuderia Ferrari | 1:30.621 | 16 |
| 05. | Felipe Massa | Scuderia Ferrari | 1:30.639 | 17 |
| 06. | Kimi Raikkonen | Lotus F1 | 1:30.671 | 19 |
| 07. | Lewis Hamilton | Mercedes AMG Petronas | 1:30.744 | 20 |
| 08. | Romain Grosjean | Lotus F1 | 1:30.781 | 18 |
| 09. | Nico Hulkenberg | Sauber F1 | 1:30.966 | 20 |
| 10. | Adrian Sutil | Sahara Force India | 1:31.009 | 18 |
| 11. | Jenson Button | Vodafone McLaren Mercedes | 1:31.326 | 22 |
| 12. | Esteban Gutiérrez | Sauber F1 | 1:31.405 | 20 |
| 13. | Paul di Resta | Sahara Force India | 1:31.733 | 21 |
| 14. | Jean-Eric Vergne | Scuderia Toro Rosso | 1:31.855 | 18 |
| 15. | Sergio Perez | Vodafone McLaren Mercedes | 1:31.855 | 23 |
| 16. | Daniel Ricciardo | Scuderia Toro Rosso | 1:31.898 | 19 |
| 17. | Pastor Maldonado | Williams F1 | 1:31.969 | 20 |
| 18. | Valtteri Bottas | Williams F1 | 1:32.036 | 23 |
| 19. | Charles Pic | Caterham F1 Team | 1:33.230 | 19 |
| 20. | Jules Bianchi | Marussia F1 Team | 1:33.470 | 22 |
| 21. | Giedo van der Garde | Caterham F1 Team | 1:33.964 | 21 |
| 22. | Max Chilton | Marussia F1 Team | 1:34.683 | 20 |