Qualifying of the German GP is over with Lewis Hamilton taking the Pole Position just ahead of Sebastian Vettel.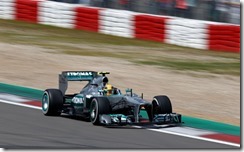 The Ferraris who looked very well in Q2 opted for a different strategy and along with McLaren they will start the race on medium tyres.
So the top five are: Lewis Hamilton, Sebastian Vettel, Mark Webber, Kimi Raikkonen and Romain Grosjean. They are followed by Daniel Ricciardo from Toro Rosso and Massa out qualified again Fernando Alonso for P7.
Here are the full qualifying results for the German Grand Prix:
Pos.

Drivers

Teams

Time

Laps

01.
Lewis Hamilton
Mercedes AMG Petronas
1:25.425
14
02.
Sebastian Vettel
Red Bull Racing
1:25.512
14
03.
Mark Webber
Red Bull Racing
1:25.897
14
04.
Kimi Raikkonen
Lotus F1
1:26.008
15
05.
Romain Grosjean
Lotus F1
1:26.208
16
06.
Daniel Ricciardo
Scuderia Toro Rosso
1:26.504
16
07.
Felipe Massa
Scuderia Ferrari
1:26.543
17
08.
Fernando Alonso
Scuderia Ferrari
1:27.348
15
09.
Jenson Button
Vodafone McLaren Mercedes
no time
16
10.
Nico Hulkenberg
Sauber F1
no time
13
11.
Nico Rosberg
Mercedes AMG Petronas
1:30.326
10
12.
Paul di Resta
Sahara Force India
1:30.697
18
13.
Sergio Perez
Vodafone McLaren Mercedes
1:30.933
16
14.
Esteban Gutiérrez
Sauber F1
1:31.010
17
15.
Adrian Sutil
Sahara Force India
1:31.010
15
16.
Jean-Eric Vergne
Scuderia Toro Rosso
1:31.104
12
17.
Valtteri Bottas
Williams F1
1:32.664
8
18.
Pastor Maldonado
Williams F1
1:32.666
6
19.
Charles Pic
Caterham F1 Team
1:32.937
8
20.
Jules Bianchi
Marussia F1
1:33.063
9
21.
Giedo van der Garde
Caterham F1 Team
1:33.734
8
22.
Max Chilton
Marussia F1
1:34.098
9
Q1 107% Time:
1:36.885