Sebastian Vettel breaks all the jinxes and wins the German Grand Prix.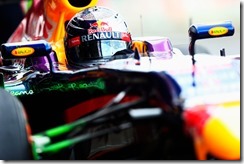 An interesting race today at Nurburgring with tyres again in the spotlight and with a lot of action down the field.
In the end Red Bull proved that they had the pace to control the race from one end to the other but at time and especially in the last ten laps both Lotuses were particularly hungry but Vettel managed to keep them behind.
Ferrari had to settle with fourth as Fernando Alonso said if you have the pace you win if not is not important what tyre you are on.
| | | | | |
| --- | --- | --- | --- | --- |
| Pos. | Drivers | Teams | Time | Gap |
| 01. | Sebastian Vettel | Red Bull Racing | 1:34.226 | |
| 02. | Kimi Raikkonen | Lotus F1 | 1:34.157 | 1.000 |
| 03. | Romain Grosjean | Lotus F1 | 1:34.926 | 5.800 |
| 04. | Fernando Alonso | Scuderia Ferrari | 1:36.068 | 7.700 |
| 05. | Lewis Hamilton | Mercedes AMG Petronas | 1:35.667 | 26.900 |
| 06. | Jenson Button | Vodafone McLaren Mercedes | 1:37.094 | 27.900 |
| 07. | Mark Webber | Red Bull Racing | 1:36.498 | 37.500 |
| 08. | Sergio Perez | Vodafone McLaren Mercedes | 1:37.964 | 38.300 |
| 09. | Nico Rosberg | Mercedes AMG Petronas | 1:36.849 | 46.800 |
| 10. | Nico Hulkenberg | Sauber F1 | 1:34.952 | 49.800 |
| 11. | Paul di Resta | Sahara Force India | 1:37.817 | 53.700 |
| 12. | Daniel Ricciardo | Scuderia Toro Rosso | 1:36.183 | 56.900 |
| 13. | Adrian Sutil | Sahara Force India | 1:35.816 | 57.700 |
| 14. | Esteban Gutiérrez | Sauber F1 | 1:35.830 | 60.100 |
| 15. | Pastor Maldonado | Williams F1 Team | 1:35.034 | 61.900 |
| 16. | Valtteri Bottas | Williams F1 Team | 1:35.666 | 1 lap |
| 17. | Charles Pic | Caterham F1 Team | 1:38.209 | 1 lap |
| 18. | Giedo van der Garde | Caterham F1 Team | 1:42.541 | 1 lap |
| 19. | Max Chilton | Marussia F1 | 1:39.931 | 1 lap |
| 20. | Jean-Eric Vergne | Vodafone McLaren Mercedes | RETIRED | 38 laps |
| 21. | Jules Bianchi | Marussia F1 | RETIRED | 39 lap |
| 22. | Felipe Massa | Scuderia Ferrari | RETIRED | 57 laps |