After the Silverstone young driver tests and three weeks competition break Red Bull is still the team to beat.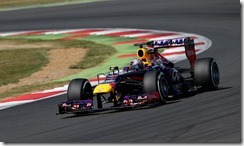 Sebastian Vettel put his Red Bull on top of the time sheet on the first Hungarian practice and his teammate Mark Webber was just 0.259s behind him while the Red Bull's were the only cars out there to go below the 1m.23s barrier.
Kimi Raikkonen was 3rd for Lotus and Fernando Alonso managed the fourth best time of the practice session for Ferrari. The top five was completed by Romain Grosjean for Lotus.
| | | | | |
| --- | --- | --- | --- | --- |
| Pos. | Drivers | Teams | Time | Laps |
| 01. | Sebastian Vettel | Red Bull Racing | 1:22.723 | 19 |
| 02. | Mark Webber | Red Bull Racing | 1:22.982 | 24 |
| 03. | Kimi Raikkonen | Lotus F1 | 1:23.010 | 20 |
| 04. | Fernando Alonso | Scuderia Ferrari | 1:23.099 | 22 |
| 05. | Romain Grosjean | Lotus F1 | 1:23.111 | 20 |
| 06. | Jenson Button | Vodafone McLaren Mercedes | 1:23.370 | 26 |
| 07. | Adrian Sutil | Sahara Force India | 1:23.390 | 20 |
| 08. | Nico Rosberg | Mercedes AMG Petronas | 1:23.531 | 28 |
| 09. | Sergio Perez | Vodafone McLaren Mercedes | 1:23.591 | 26 |
| 10. | Pastor Maldonado | Williams F1 | 1:23.911 | 18 |
| 11. | Esteban Gutiérrez | Sauber F1 | 1:24.119 | 21 |
| 12. | Valtteri Bottas | Williams F1 | 1:24.150 | 21 |
| 13. | Lewis Hamilton | Mercedes AMG Petronas | 1:24.157 | 27 |
| 14. | Jean-Eric Vergne | Scuderia Toro Rosso | 1:24.204 | 15 |
| 15. | Felipe Massa | Scuderia Ferrari | 1:24.299 | 19 |
| 16. | Nico Hulkenberg | Sauber F1 | 1:24.314 | 23 |
| 17. | Daniel Ricciardo | Scuderia Toro Rosso | 1:24.383 | 24 |
| 18. | Paul di Resta | Sahara Force India | 1:24.608 | 21 |
| 19. | Charles Pic | Caterham F1 Team | 1:25.827 | 24 |
| 20. | Giedo van der Garde | Caterham F1 Team | 1:26.808 | 25 |
| 21. | Jules Bianchi | Marussia F1 | 1:27.617 | 20 |
| 22. | Rodolfo Gonzalez | Marussia F1 | 1:28.927 | 25 |