We started the third free practice of the Hungarian GP with all eyes on the Red Bull drivers who dominated Friday's running with Sebastian Vettel quickest with a 1:21.264.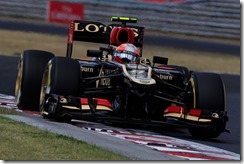 It's another hot day in Budapest with early estimates that the track temp could reach up to 54'C. As Caterham put it on Twitter "You bring the frying pan, we'll bring the eggs."
It was a solid practice session for teams and drivers except Esteban Gutierrez who had an engine problem and the team had to change it, so he was left out of this practice session.
When the chequered flag was dropped Romain Grosjean was quickest by 0.168s over Alonso while Perez was third when he lost the rear of the car at Turn 11 and slapped the barrier with the left side of the car.
| | | | | |
| --- | --- | --- | --- | --- |
| Pos. | Drivers | Teams | Time | Laps |
| 01. | Romain Grosjean | Lotus F1 | 1:20.730 | 20 |
| 02. | Fernando Alonso | Scuderia Ferrari | 1:20.898 | 13 |
| 03. | Sergio Perez | Vodafone McLaren Mercedes | 1:21.052 | 10 |
| 04. | Sebastian Vettel | Red Bull Racing | 1:21.125 | 27 |
| 05. | Felipe Massa | Scuderia Ferrari | 1:21.151 | 14 |
| 06. | Lewis Hamilton | Mercedes AMG Petronas | 1:21.158 | 19 |
| 07. | Mark Webber | Red Bull Racing | 1:21.254 | 17 |
| 08. | Nico Rosberg | Mercedes AMG Petronas | 1:21.356 | 23 |
| 09. | Jenson Button | Vodafone McLaren Mercedes | 1:21.499 | 15 |
| 10. | Adrian Sutil | Sahara Force India | 1:21.519 | 20 |
| 11. | Kimi Raikkonen | Lotus F1 | 1:21.589 | 17 |
| 12. | Pastor Maldonado | Williams F1 | 1:21.646 | 19 |
| 13. | Paul di Resta | Sahara Force India | 1:21.963 | 21 |
| 14. | Nico Hulkenberg | Sauber F1 | 1:21.964 | 21 |
| 15. | Daniel Ricciardo | Scuderia Toro Rosso | 1:22.180 | 18 |
| 16. | Jean-Eric Vergne | Scuderia Toro Rosso | 1:22.423 | 19 |
| 17. | Valtteri Bottas | Williams F1 | 1:23.028 | 16 |
| 18. | Giedo van der Garde | Caterham F1 Team | 1:23.975 | 21 |
| 19. | Charles Pic | Caterham F1 Team | 1:23.987 | 19 |
| 20. | Jules Bianchi | Marussia F1 Team | 1:24.298 | 20 |
| 21. | Max Chilton | Marussia F1 Team | 1:25.122 | 20 |
| 22. | Esteban Gutiérrez | Sauber F1 | no time | 2 |