Lewis Hamilton snatches the pole from Sebastian Vettel in the dying moments of Q3.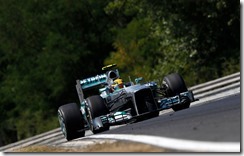 Everything was set for an exciting qualifying session this afternoon and it was the Mercedes boys who found a lot of pace in their cars and managed to take the fight to Red Bull.
Romain Grosjean did a fantastic job for Lotus as he managed to qualify third just ahead of Nico Rosberg while Alonso had to settle for fifth keeping himself in front of Kimi Raikkonen.
But it was Mark Webber who suffered the worse qualifying session after his KERS failed and the team was unable to fix it in time.

Pos.

Drivers

Teams

Time

Laps

01.
Lewis Hamilton
Mercedes AMG Petronas
1:19.388
15
02.
Sebastian Vettel
Red Bull Racing
1:19.426
12
03.
Romain Grosjean
Lotus F1
1:19.595
15
04.
Nico Rosberg
Mercedes AMG Petronas
1:19.720
16
05.
Fernando Alonso
Scuderia Ferrari
1:19.791
15
06.
Kimi Raikkonen
Lotus F1
1:19.851
17
07.
Felipe Massa
Scuderia Ferrari
1:19.929
15
08.
Daniel Ricciardo
Scuderia Toro Rosso
1:20.641
14
09.
Sergio Perez
Vodafone McLaren Mercedes
1:22.398
16
10.
Mark Webber
Red Bull Racing
no time
13
11.
Adrian Sutil
Sahara Force India
1:20.569
17
12.
Nico Hulkenberg
Sauber F1
1:20.580
13
13.
Jenson Button
Vodafone McLaren Mercedes
1:20.777
10
14.
Jean-Eric Vergne
Scuderia Toro Rosso
1:21.029
12
15.
Pastor Maldonado
Williams F1
1:21.133
15
16.
Valtteri Bottas
Williams F1
1:21.219
13
17.
Esteban Gutiérrez
Sauber F1
1:21.724
11
18.
Paul di Resta
Sahara Force India
1:22.043
11
19.
Charles Pic
Caterham F1 Team
1:23.007
8
20.
Giedo van der Garde
Caterham F1 Team
1:23.333
7
21.
Jules Bianchi
Marussia F1
1:23.787
8
22.
Max Chilton
Marussia F1
1:23.997
8
Q1 107% Time:
1:25.974