Lewis Hamilton wins the Hungarian GP and he takes his first victory for Mercedes GP.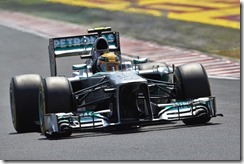 A hot Hungarian GP came to an end with Lewis Hamilton cruising for victory and with lot of action all over the field.
With a brilliant strategy Lotus put Kimi Raikkonen in P2 while Sebastian Vettel had to settle for third because he was caught behind Jenson Button for ten laps after the first pit stop and he was unable to pass Kimi in the last laps of the race.
A disappointing fifth place for Fernando Alonso who was unable to push his Ferrari forward confirming that Scuderia Ferrari much like the last year and the year before are losing the upgrades race and are falling behind once more.
More to come soon, until then here are the full results:
| | | | | |
| --- | --- | --- | --- | --- |
| Pos. | Drivers | Teams | Time | Gap |
| 01. | Lewis Hamilton | Mercedes AMG Petronas | 1:27.709 | |
| 02. | Kimi Raikkonen | Lotus F1 | 1:26.092 | 10.900 |
| 03. | Sebastian Vettel | Red Bull Racing | 1:26.717 | 12.400 |
| 04. | Mark Webber | Red Bull Racing | 1:24.796 | 18.000 |
| 05. | Fernando Alonso | Scuderia Ferrari | 1:25.805 | 31.400 |
| 06. | Romain Grosjean | Lotus F1 | 1:25.763 | 32.200 |
| 07. | Jenson Button | Vodafone McLaren Mercedes | 1:28.903 | 53.800 |
| 08. | Felipe Massa | Scuderia Ferrari | 1:27.786 | 56.400 |
| 09. | Sergio Perez | Vodafone McLaren Mercedes | 1:28.969 | 1 lap |
| 10. | Pastor Maldonado | Williams F1 Team | 1:25.597 | 1 lap |
| 11. | Nico Hulkenberg | Sauber F1 | 1:29.247 | 1 lap |
| 12. | Jean-Eric Vergne | Scuderia Toro Rosso | 1:29.009 | 1 lap |
| 13. | Daniel Ricciardo | Scuderia Toro Rosso | 1:28.685 | 1 lap |
| 14. | Giedo van der Garde | Caterham F1 Team | 1:33.210 | 2 laps |
| 15. | Charles Pic | Caterham F1 Team | 1:29.526 | 2 laps |
| 16. | Jules Bianchi | Marussia F1 | 1:32.987 | 3 laps |
| 17. | Max Chilton | Marussia F1 | 1:28.555 | 3 laps |
| 18. | Paul di Resta | Sahara Force India | RETIRED | 4 laps |
| 19. | Nico Rosberg | Mercedes AMG Petronas | RETIRED | 6 laps |
| 20. | Valtteri Bottas | Williams F1 Team | RETIRED | 28 laps |
| 21. | Esteban Gutiérrez | Sauber F1 | RETIRED | 42 laps |
| 22. | Adrian Sutil | Sahara Force India | RETIRED | 51 laps |