Lewis Hamilton tops the Italian Grand Prix practice one.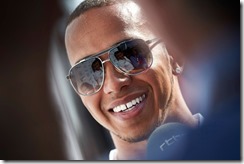 Arguably one of the best tracks on the calendar, the high-speed Monza circuit is a favourite amongst the drivers here are a few stats: Lewis Hamilton is the defending Italian GP champ; Sebastian Vettel has two wins, 2008 and 2011; and Fernando Alonso also has two wins to his name, 2007 and 2010.
There are three driver changes for this morning's session: British GP2 driver James Calado makes his first appearance for Force India since joining the team as third driver, replacing Adrian Sutil; Heikki Kovalainen steps into Giedo van der Garde's cockpit at Caterham; and Rodolfo Gonzalez gets another run in the Marussia, replacing Jules Bianchi.
| | | | | |
| --- | --- | --- | --- | --- |
| Pos. | Drivers | Teams | Time | Laps |
| 01. | Lewis Hamilton | Mercedes AMG Petronas | 1:25.565 | 24 |
| 02. | Fernando Alonso | Scuderia Ferrari | 1:25.600 | 25 |
| 03. | Nico Rosberg | Mercedes AMG Petronas | 1:25.704 | 25 |
| 04. | Sebastian Vettel | Red Bull Racing | 1:25.753 | 26 |
| 05. | Kimi Raikkonen | Lotus F1 | 1:25.941 | 22 |
| 06. | Sergio Perez | Vodafone McLaren Mercedes | 1:26.007 | 24 |
| 07. | Jenson Button | Vodafone McLaren Mercedes | 1:26.035 | 23 |
| 08. | Mark Webber | Red Bull Racing | 1:26.103 | 27 |
| 09. | Pastor Maldonado | Williams F1 | 1:26.149 | 21 |
| 10. | Jean-Eric Vergne | Scuderia Toro Rosso | 1:26.155 | 25 |
| 11. | Esteban Gutiérrez | Sauber F1 | 1:26.194 | 25 |
| 12. | Romain Grosjean | Lotus F1 | 1:26.295 | 23 |
| 13. | Daniel Ricciardo | Scuderia Toro Rosso | 1:26.387 | 21 |
| 14. | Felipe Massa | Scuderia Ferrari | 1:26.449 | 16 |
| 15. | Paul di Resta | Sahara Force India | 1:26.594 | 13 |
| 16. | Valtteri Bottas | Williams F1 | 1:26.802 | 21 |
| 17. | James Calado | Sahara Force India | 1:27.041 | 24 |
| 18. | Charles Pic | Caterham F1 Team | 1:27.224 | 16 |
| 19. | Nico Hulkenberg | Sauber F1 | 1:27.818 | 24 |
| 20. | Max Chilton | Marussia F1 | 1:27.869 | 20 |
| 21. | Heikki Kovalainen | Caterham F1 Team | 1:28.192 | 21 |
| 22. | Rodolfo Gonzales | Marussia F1 | 1:29.526 | 26 |