Sebastian Vettel takes the pole for the Italian Grand Prix.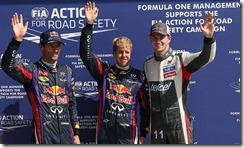 Red Bull dominance came into play in the closing laps of qualifying when both cars were absolutely flying around the track and Vettel stopped the clock at 1:23.755s while Webber managed a 1:23.968s. It is worth mentioning that the RB9's were the only cars to go below 1.24.000s barrier.
After practicing a tow all weekend Ferrari managed to screw the procedure up again when it mattered the most and had to settle for 4th and 5th on the grid while Nico Hulkenberg put together a brilliant lap and placed himself into 3rd place.
Pos.

Drivers

Teams

Time

Laps

01.
Sebastian Vettel
Red Bull Racing
1:23.755
15
02.
Mark Webber
Red Bull Racing
1:23.968
18
03.
Nico Hulkenberg
Sauber F1
1:24.065
21
04.
Felipe Massa
Scuderia Ferrari
1:24.132
21
05.
Fernando Alonso
Scuderia Ferrari
1:24.142
15
06.
Nico Rosberg
Mercedes AMG Petronas
1:24.192
26
07.
Daniel Ricciardo
Scuderia Toro Rosso
1:24.209
24
08.
Sergio Perez
Vodafone McLaren Mercedes
1:24.502
17
09.
Jenson Button
Vodafone McLaren Mercedes
1:24.515
15
10.
Jean-Eric Vergne
Scuderia Toro Rosso
1:28.050
18
11.
Kimi Raikkonen
Lotus F1
1:24.610
16
12.
Lewis Hamilton
Mercedes AMG Petronas
1:24.803
14
13.
Romain Grosjean
Lotus F1
1:24.848
14
14.
Adrian Sutil
Sahara Force India
1:24.932
19
15.
Pastor Maldonado
Williams F1
1:25.011
19
16.
Paul di Resta
Sahara Force India
1:25.077
18
17.
Esteban Gutiérrez
Sauber F1
1:25.226
13
18.
Valtteri Bottas
Williams F1
1:25.291
11
19.
Giedo van der Garde
Caterham F1 Team
1:26.406
9
20.
Charles Pic
Caterham F1 Team
1:26.563
10
21.
Jules Bianchi
Marussia F1
1:27.085
11
22.
Max Chilton
Marussia F1
1:27.480
10
Q1 107% Time:
1:30.221