Sebastian Vettel wins the Italian Grand Prix.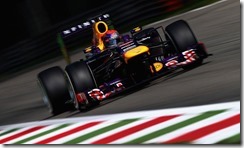 Vettel takes the win with Alonso second, Webber third and Massa fourth. A great ride from Hulkenberg earns him fifth with Rosberg sixth and Ricciardo seventh. The battle for eighth continued to the end with Hamilton harassing Grosjean. However, the Frenchman holds firm.
This was Red Bull's 40th race win in Formula One. Big congratulations to them. Vettel's win helped him to increase his lead in the Championship as his title rivals all finished behind him.
Here are full race details:
| | | | | |
| --- | --- | --- | --- | --- |
| Pos. | Drivers | Teams | Time | Gap |
| 01. | Sebastian Vettel | Red Bull Racing | 1:29.036 | |
| 02. | Fernando Alonso | Scuderia Ferrari | 1:27.040 | 5.400 |
| 03. | Mark Webber | Red Bull Racing | 1:26.690 | 6.300 |
| 04. | Felipe Massa | Scuderia Ferrari | 1:27.291 | 9.300 |
| 05. | Nico Hulkenberg | Sauber F1 Team | 1:26.779 | 10.300 |
| 06. | Nico Rosberg | Mercedes AMG Petronas | 1:26.746 | 10.900 |
| 07. | Daniel Ricciardo | Scuderia Toro Rosso | 1:27.572 | 32.300 |
| 08. | Romain Grosjean | Lotus F1 | 1:27.882 | 33.100 |
| 09. | Lewis Hamilton | Mercedes AMG Petronas | 1:27.940 | 33.500 |
| 10. | Jenson Button | Vodafone McLaren Mercedes | 1:28.267 | 38.300 |
| 11. | Kimi Raikkonen | Lotus F1 | 1:28.065 | 38.600 |
| 12. | Sergio Perez | Vodafone McLaren Mercedes | 1:27.868 | 39.700 |
| 13. | Esteban Gutiérrez | Sauber F1 Team | 1:27.092 | 40.800 |
| 14. | Pastor Maldonado | Williams F1 Team | 1:27.085 | 49.000 |
| 15. | Valtteri Bottas | Williams F1 Team | 1:27.166 | 56.800 |
| 16. | Adrian Sutil | Sahara Force India | IN LAP | 51.100 |
| 17. | Charles Pic | Caterham F1 Team | 1:28.620 | 1 lap |
| 18. | Giedo van der Garde | Caterham F1 Team | 1:28.663 | 1 lap |
| 19. | Jules Bianchi | Marussia F1 Team | 1:30.325 | 1 lap |
| 20. | Max Chilton | Marussia F1 Team | 1:38.477 | 1 lap |
| 21. | Jean-Eric Vergne | Scuderia Toro Rosso | RETIRED | 39 laps |
| 22. | Paul di Resta | Sahara Force India | RETIRED | 52 laps |