It was the Mercedes duo of Lewis Hamilton and Nico Rosberg who led the Red Bull pair of Sebastian Vettel and Mark Webber in an incident-filled first practice session in Japan on Friday morning.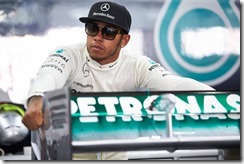 Hamilton quickly took control of proceedings at the challenging Suzuka circuit, setting a series of fastest times, culminating in 1m 34.157s to beat team mate Rosberg's 1m 34.487s by 0.330s. The German briefly overshot the chicane towards the end of the 90 minutes while seeking to go faster.
The Red Bulls weren't far behind, however, with Sebastian Vettel on 1m 34.768s and Mark Webber right on his tail with 1m 34.787s in an RB9 built-up around a new chassis following his crash and fire during last week's race in Korea.
Felipe Massa led Ferrari's challenge with 1m 35.126s, with hard-trying team mate Fernando Alonso wheel-locking his way to 1m 35.154s meanwhile Romain Grosjean and Kimi Raikkonen were also in the mix for Lotus, with 1m 35.179s and 1m 35.364s respectively.
See full Japanese GP Practice 1 results below:
| | | | | |
| --- | --- | --- | --- | --- |
| Pos. | Drivers | Teams | Time | Laps |
| 01. | Lewis Hamilton | Mercedes AMG Petronas | 1:34.157 | 19 |
| 02. | Nico Rosberg | Mercedes AMG Petronas | 1:34.487 | 19 |
| 03. | Sebastian Vettel | Red Bull Racing | 1:34.768 | 24 |
| 04. | Mark Webber | Red Bull Racing | 1:34.787 | 20 |
| 05. | Felipe Massa | Scuderia Ferrari | 1:35.126 | 14 |
| 06. | Fernando Alonso | Scuderia Ferrari | 1:35.154 | 16 |
| 07. | Romain Grosjean | Lotus F1 | 1:35.179 | 15 |
| 08. | Kimi Raikkonen | Lotus F1 | 1:35.364 | 17 |
| 09. | Sergio Perez | Vodafone McLaren Mercedes | 1:35.450 | 27 |
| 10. | Daniel Ricciardo | Scuderia Toro Rosso | 1:35.635 | 19 |
| 11. | Jenson Button | Vodafone McLaren Mercedes | 1:35.868 | 22 |
| 12. | Nico Hulkenberg | Sauber F1 | 1:35.900 | 18 |
| 13. | Jean-Eric Vergne | Scuderia Toro Rosso | 1:36.066 | 20 |
| 14. | Adrian Sutil | Sahara Force India | 1:36.165 | 19 |
| 15. | Pastor Maldonado | Williams F1 | 1:36.178 | 12 |
| 16. | Valtteri Bottas | Williams F1 | 1:36.340 | 23 |
| 17. | Paul di Resta | Sahara Force India | 1:36.399 | 18 |
| 18. | Esteban Gutiérrez | Sauber F1 | 1:36.760 | 22 |
| 19. | Jules Bianchi | Marussia F1 | 1:37.595 | 22 |
| 20. | Heikki Kovalainen | Caterham F1 Team | 1:37.629 | 8 |
| 21. | Giedo van der Garde | Caterham F1 Team | 1:38.025 | 15 |
| 22. | Max Chilton | Marussia F1 | 1:38.763 | 18 |
Info: Formula1.com Image: Mercedes GP