Mark Webber claimed his first pole position of the season – and his first since Korea last year – with a superb performance in qualifying in Japan on Saturday afternoon.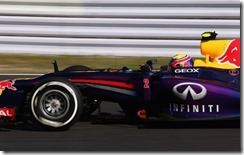 The Australian got the better of Red Bull team mate Sebastian Vettel, who suffered from intermittent KERS issues in Q3. Webber had set the pace in Q1 at Suzuka with 1m 32.271s as he took the honours away from Mercedes' Lewis Hamilton, who in turn had displaced Ferrari's Fernando Alonso.
Webber actually set two times that were quick enough for pole position in Q3; his first lap of 1m 30.975s quicker than Vettel's two efforts of 1m 31.312s and 1m 31.089s, and his second an improved 1m 30.915s.
As the Red Bulls wrapped up the front row, Hamilton improved from 10th place to third with his last-gasp lap of 1m 31.253s, moving Grosjean across to the outside of the second row on 1m 31.365s.
Massa once again outgunned Ferrari team mate Alonso, as the Brazilian set the fifth-best time of 1m 31.378s and the Spaniard could only manage 1m 31.665s for eighth. In between them came Nico Rosberg in the other Mercedes on 1m 31.397s and Sauber's impressive Nico Hulkenberg on 1m 31.644s.
Pos.

Drivers

Teams

Time

Laps

01.
Mark Webber
Red Bull Racing
1:30.915
13
02.
Sebastian Vettel
Red Bull Racing
1:31.089
13
03.
Lewis Hamilton
Mercedes AMG Petronas
1:31.253
17
04.
Romain Grosjean
Lotus F1
1:31.365
21
05.
Felipe Massa
Scuderia Ferrari
1:31.378
17
06.
Nico Rosberg
Mercedes AMG Petronas
1:31.397
17
07.
Nico Hulkenberg
Sauber F1
1:31.644
19
08.
Fernando Alonso
Scuderia Ferrari
1:31.665
16
09.
Kimi Raikkonen
Lotus F1
1:31.684
19
10.
Jenson Button
Vodafone McLaren Mercedes
1:31.827
15
11.
Sergio Perez
Vodafone McLaren Mercedes
1:31.989
16
12.
Paul di Resta
Sahara Force India
1:31.992
15
13.
Valtteri Bottas
Williams F1
1:32.013
14
14.
Esteban Gutiérrez
Sauber F1
1:32.063
15
15.
Pastor Maldonado
Williams F1
1:32.093
15
16.
Daniel Ricciardo
Scuderia Toro Rosso
1:32.485
11
17.
Adrian Sutil*
Sahara Force India
1:32.890
10
18.
Jean-Eric Vergne
Scuderia Toro Rosso
1:33.357
6
19.
Max Chilton
Marussia F1
1:34.320
8
20.
Charles Pic*
Caterham F1 Team
1:34.556
8
21.
Giedo van der Garde
Caterham F1 Team
1:34.879
9
22.
Jules Bianchi*
Marussia F1
1:34.958
5
Q1 107% Time:
1:38.251
* Bianchi, Pic have 10-place grid penalties after accumulating three stewards' reprimands. Sutil has 5-place penalty for gearbox change