Lewis Hamilton narrowly edged ahead of the Red Bulls in FP1 and he and the rest of the teams and drivers had another 90 minute session in which to hone their set-ups and log some mileage on the difference compound tyres.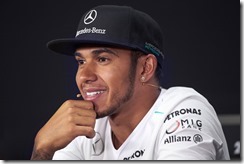 Pirelli have brought their red-marked supersoft and white-marked medium compound tyres to the 5.615 km, 18 Turn Korea International Circuit.No one ventured out on the supersofts in this morning's session, but that should change this afternoon when we should see plenty of action.
Marussia's Jules Bianchi and Force India's Paul di Resta are both back in their cars having sat out FP1 to allow their respective reserve drivers to get some mileage.
Lewis Hamilton doubles up, setting the fastest time this afternoon, just as he did this morning while Vettel was again second, but Rosberg and Webber swapped places from this morning's session.
| | | | | |
| --- | --- | --- | --- | --- |
| Pos. | Drivers | Teams | Time | Laps |
| 01. | Lewis Hamilton | Mercedes AMG Petronas | 1:38.673 | 31 |
| 02. | Sebastian Vettel | Red Bull Racing | 1:38.781 | 30 |
| 03. | Nico Rosberg | Mercedes AMG Petronas | 1:38.797 | 32 |
| 04. | Mark Webber | Red Bull Racing | 1:38.844 | 35 |
| 05. | Felipe Massa | Scuderia Ferrari | 1:39.114 | 30 |
| 06. | Romain Grosjean | Lotus F1 | 1:39.226 | 34 |
| 07. | Fernando Alonso | Scuderia Ferrari | 1:39.444 | 31 |
| 08. | Kimi Raikkonen | Lotus F1 | 1:39.757 | 33 |
| 09. | Jenson Button | Vodafone McLaren Mercedes | 1:39.774 | 29 |
| 10. | Adrian Sutil | Sahara Force India | 1:40.006 | 34 |
| 11. | Paul di Resta | Sahara Force India | 1:40.007 | 34 |
| 12. | Sergio Perez | Vodafone McLaren Mercedes | 1:25.888 | 31 |
| 13. | Esteban Gutiérrez | Sauber F1 | 1:40.186 | 33 |
| 14. | Nico Hulkenberg | Sauber F1 | 1:40.210 | 34 |
| 15. | Jean-Eric Vergne | Scuderia Toro Rosso | 1:40.446 | 30 |
| 16. | Daniel Ricciardo | Scuderia Toro Rosso | 1:40.552 | 26 |
| 17. | Pastor Maldonado | Williams F1 | 1:41.117 | 35 |
| 18. | Valtteri Bottas | Williams F1 | 1:41.289 | 34 |
| 19. | Giedo van der Garde | Caterham F1 Team | 1:42.461 | 36 |
| 20. | Charles Pic | Caterham F1 Team | 1:42.798 | 35 |
| 21. | Jules Bianchi | Marussia F1 | 1:43.108 | 31 |
| 22. | Max Chilton | Marussia F1 | 1:43.441 | 29 |