Having been second best to Mercedes on Friday, Red Bull underlined their status as favourites by heading the final practice session in Korea on Saturday morning.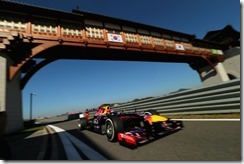 Championship-leader Sebastian Vettel edged team mate Mark Webber by just 0.137s to top the timesheets, with the Mercedes pairing of Nico Rosberg and Lewis Hamilton third and fourth fastest respectively.
In a relatively quiet session in which the leading runners switched late to Pirelli's supersoft rubber, first Webber then Vettel deposed Hamilton who had set the fastest time of 1m 38.860s on the medium tyres. Webber did 1m 38.132s then 1m 38.018s, but Vettel settled the issue in his own favour with a lap of 1m 37.881s. The German had one slightly dusty moment when he had to go wide to go around a slower car, but otherwise it was smooth sailing for the world champion.
| | | | | |
| --- | --- | --- | --- | --- |
| Pos. | Drivers | Teams | Time | Laps |
| 01. | Sebastian Vettel | Red Bull Racing | 1:37.881 | 17 |
| 02. | Mark Webber | Red Bull Racing | 1:38.018 | 17 |
| 03. | Nico Rosberg | Mercedes AMG Petronas | 1:38.318 | 16 |
| 04. | Lewis Hamilton | Mercedes AMG Petronas | 1:38.332 | 15 |
| 05. | Fernando Alonso | Scuderia Ferrari | 1:38.486 | 13 |
| 06. | Romain Grosjean | Lotus F1 | 1:38.701 | 19 |
| 07. | Felipe Massa | Scuderia Ferrari | 1:38.816 | 14 |
| 08. | Kimi Raikkonen | Lotus F1 | 1:38.857 | 17 |
| 09. | Nico Hulkenberg | Sauber F1 | 1:38.961 | 16 |
| 10. | Jenson Button | Vodafone McLaren Mercedes | 1:39.114 | 14 |
| 11. | Esteban Gutiérrez | Sauber F1 | 1:39.128 | 15 |
| 12. | Pastor Maldonado | Williams F1 | 1:39.196 | 16 |
| 13. | Adrian Sutil | Sahara Force India | 1:39.204 | 17 |
| 14. | Sergio Perez | Vodafone McLaren Mercedes | 1:39.274 | 15 |
| 15. | Daniel Ricciardo | Scuderia Toro Rosso | 1:39.327 | 17 |
| 16. | Paul di Resta | Sahara Force India | 1:39.371 | 19 |
| 17. | Jean-Eric Vergne | Scuderia Toro Rosso | 1:39.665 | 15 |
| 18. | Valtteri Bottas | Williams F1 | 1:40.128 | 17 |
| 19. | Charles Pic | Caterham F1 Team | 1:41.360 | 19 |
| 20. | Giedo van der Garde | Caterham F1 Team | 1:41.614 | 20 |
| 21. | Jules Bianchi | Marussia F1 Team | 1:41.646 | 14 |
| 22. | Max Chilton | Marussia F1 Team | 1:42.267 | 17 |