Sebastian Vettel takes the pole for the Korean Grand Prix.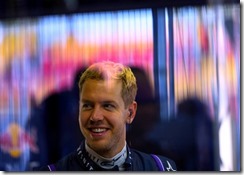 After Mercedes' Lewis Hamilton led both of Friday's sessions, Red Bull were back on top in final practice this morning, with Sebastian Vettel setting a best time of 1m 37.881s, just 0.137s ahead of team mate Mark Webber.
While in Q3 with just under two minutes to go and all ten cars were on track for the final attack with Vettel stopping the clock at 1.37.202s followed by Hamilton with 1.37.420 and Webber with 1.37.464 who was unable to improve his time in the second run.
Grosjean and Rosberg will make up row two of the grid because of Webber 10th place grid penalty and the Ferraris will form row three .
Pos.

Drivers

Teams

Time

Laps

01.
Sebastian Vettel
Red Bull Racing
1:37.202
13
02.
Lewis Hamilton
Mercedes AMG Petronas
1:37.420
16
03.
Mark Webber
Red Bull Racing
1:37.464
13
04.
Romain Grosjean
Lotus F1
1:37.531
14
05.
Nico Rosberg
Mercedes AMG Petronas
1:37.679
16
06.
Fernando Alonso
Scuderia Ferrari
1:38.038
17
07.
Felipe Massa
Scuderia Ferrari
1:38.223
16
08.
Nico Hulkenberg
Sauber F1
1:38.237
17
09.
Esteban Gutiérrez
Sauber F1
1:38.405
15
10.
Kimi Raikkonen
Lotus F1
1:38.822
17
11.
Sergio Perez
Vodafone McLaren Mercedes
1:38.362
14
12.
Jenson Button
Vodafone McLaren Mercedes
1:38.365
14
13.
Daniel Ricciardo
Scuderia Toro Rosso
1:38.417
14
14.
Adrian Sutil
Sahara Force India
1:38.431
15
15.
Paul di Resta
Sahara Force India
1:38.718
15
16.
Jean-Eric Vergne
Scuderia Toro Rosso
1:38.781
13
17.
Valtteri Bottas
Williams F1
1:39.470
8
18.
Pastor Maldonado
Williams F1
1:39.987
8
19.
Giedo van der Garde
Caterham F1 Team
1:40.864
6
20.
Charles Pic
Caterham F1 Team
1:40.871
6
21.
Jules Bianchi
Marussia F1
1:41.169
6
22.
Max Chilton
Marussia F1
1:41.322
6
Q1 107% Time:
1:45.591