Vettel wins the Korean Grand prix for the third time.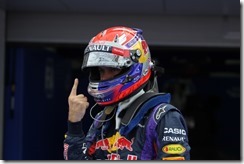 Lotus scores an excellent result with Raikkonen second and Grosjean third while Hulkenberg matches his career-best result with a superb fourth for Sauber, fending off Hamilton and Alonso to the last.
Rosberg takes seventh, from Button, Massa and Perez after having a front wing change.
This result means that Vettel could in theory wrap up the World title in Japan in a week's time, but Alonso will be out there to stop him.
| | | | | |
| --- | --- | --- | --- | --- |
| Pos. | Drivers | Teams | Time | Gap |
| 01. | Sebastian Vettel | Red Bull Racing | 1:43.578 | |
| 02. | Kimi Raikkonen | Lotus F1 | 1:42.445 | 4.200 |
| 03. | Romain Grosjean | Lotus F1 | 1:42.403 | 4.900 |
| 04. | Nico Hulkenberg | Sauber F1 Team | 1:42.841 | 24.100 |
| 05. | Lewis Hamilton | Mercedes AMG Petronas | 1:43.596 | 25.200 |
| 06. | Fernando Alonso | Scuderia Ferrari | 1:43.665 | 26.100 |
| 07. | Nico Rosberg | Mercedes AMG Petronas | 1:42.803 | 26.600 |
| 08. | Jenson Button | Vodafone McLaren Mercedes | 1:44.457 | 32.200 |
| 09. | Felipe Massa | Scuderia Ferrari | 1:43.157 | 34.300 |
| 10. | Sergio Perez | Vodafone McLaren Mercedes | 1:43.182 | 35.100 |
| 11. | Esteban Gutiérrez | Lotus F1 | 1:42.744 | 35.900 |
| 12. | Valtteri Bottas | Williams F1 Team | 1:44.414 | 47.000 |
| 13. | Pastor Maldonado | Williams F1 Team | 1:45.194 | 50.000 |
| 14. | Charles Pic | Caterham F1 Team | 1:44.948 | 63.500 |
| 15. | Giedo van der Garde | Caterham F1 Team | 1:44.375 | 64.500 |
| 16. | Jules Bianchi | Marussia F1 Team | 1:45.414 | 67.900 |
| 17. | Max Chilton | Marussia F1 Team | 1:45.518 | 72.800 |
| 18. | Jean-Eric Vergne | Scuderia Toro Rosso | Retired | 2 laps |
| 19. | Daniel Ricciardo | Scuderia Toro Rosso | Retired | 3 laps |
| 20. | Adrian Sutil | Sahara Force India | Retired | 5 laps |
| 21. | Mark Webber | Red Bull Racing | Fire | 19 laps |
| 22. | Paul di Resta | Sahara Force India | Accident | 31 laps |