Lewis Hamilton topped the timesheets as practice got underway in hot and humid conditions in Kuala Lumpur on Friday morning.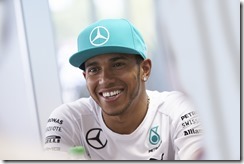 The 2008 world champion set a best time of 1m 40.691s to finish marginally ahead of Ferrari's Kimi Raikkonen, with the other Mercedes of Nico Rosberg third fastest.
Last weekend wasn't without problems for Mercedes as an engine issue put Hamilton out of the grand prix early in the race. The McLarens finished second and third with Kevin Magnussen runner-up ahead of Jenson Button.
| | | | | |
| --- | --- | --- | --- | --- |
| Pos. | Drivers | Teams | Time | Laps |
| 01. | 44 – Lewis Hamilton | Mercedes AMG Petronas | 1:40.691 | 19 |
| 02. | 07 – Kimi Raikkonen | Scuderia Ferrari | 1:40.843 | 20 |
| 03. | 06 – Nico Rosberg | Mercedes AMG Petronas | 1:41.028 | 19 |
| 04. | 22 – Jenson Button | McLaren F1 | 1:41.111 | 20 |
| 05. | 20 – Kevin Magnussen | McLaren F1 | 1:41.274 | 18 |
| 06. | 25 – Jean-Eric Vergne | Scuderia Toro Rosso | 1:41.402 | 15 |
| 07. | 01 – Sebastian Vettel | Red Bull Racing | 1:41.523 | 9 |
| 08. | 27 – Nico Hulkenberg | Sahara Force India | 1:41.642 | 19 |
| 09. | 19 – Felipe Massa | Williams Martini Racing | 1:41.686 | 23 |
| 10. | 77 – Valtteri Bottas | Williams Martini Racing | 1:41.830 | 22 |
| 11. | 14 – Fernando Alonso | Scuderia Ferrari | 1:41.923 | 14 |
| 12. | 03 – Daniel Ricciardo | Red Bull Racing | 1:42.117 | 20 |
| 13. | 99 – Adrian Sutil | Sauber F1 Team | 1:42.365 | 21 |
| 14. | 26 – Daniil Kvyat | Scuderia Toro Rosso | 1:42.869 | 21 |
| 15. | 21 – Esteban Gutierrez | Sauber F1 Team | 1:42.904 | 23 |
| 16. | 17 – Jules Bianchi | Marussia F1 Team | 1:43.825 | 18 |
| 17. | 09 – Marcus Ericsson | Caterham F1 Team | 1:45.775 | 24 |
| 18. | 04 – Max Chilton | Marussia F1 Team | 1:46.911 | 10 |
| 19. | 10 – Kamui Kobayashi | Caterham F1 Team | 1:51.180 | 5 |
| 20. | 08 – Romain Grosjean | Lotus F1 Team | no time | 2 |
| 21. | 11 – Sergio Perez | Sahara Force India | no time | 2 |
| 22. | 13 – Pastor Maldonado | Lotus F1 Team | no time | 4 |