Lewis Hamilton wins his first ever Malaysian Grand Prix after an emphatic drive from pole position in Malaysia on Sunday.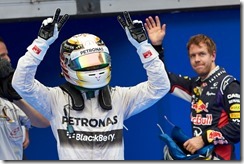 The Mercedes driver assumed the lead at the start and was never headed, whilst team mate Nico Rosberg ensured it was a perfect day for the Silver Arrows by holding off a mid-race charge from Red Bull's Sebastian Vettel to secure a strong second place.
Sebastian Vettel was third for Red Bull and proved that RB10 has a good race pace while his teammate was force to retire. Alonso came fourth after he managed to pass Nico Hulkenberg in the last 4 laps of the race.
| | | | |
| --- | --- | --- | --- |
| Pos. | Drivers | Teams | Time |
| 01. | 44 – Lewis Hamilton | Mercedes AMG Petronas | Winner |
| 02. | 06 – Nico Rosberg | Mercedes AMG Petronas | +17.3 sec |
| 03. | 01 – Sebastian Vettel | Red Bull Racing | +24.5 sec |
| 04. | 14 – Fernando Alonso | Scuderia Ferrari | +35.9 sec |
| 05. | 27 – Nico Hulkenberg | Sahara Force India | +47.1 sec |
| 06. | 22 – Jenson Button | McLaren Mercedes | +83.6 sec |
| 07. | 19 – Felipe Massa | Williams Martini Racing | +85.0 sec |
| 08. | 77 – Valtteri Bottas | Williams Martini Racing | +85.5 sec |
| 09. | 20 – Kevin Magnussen | McLaren Mercedes | +1 Lap |
| 10. | 26 – Daniil Kvyat | Scuderia Toro Rosso | +1 Lap |
| 11. | 08 – Romain Grosjean | Lotus F1 Team | +1 Lap |
| 12. | 07 – Kimi Raikkonen | Scuderia Ferrari | +1 Lap |
| 13. | 10 – Kamui Kobayashi | Caterham F1 Team | +1 Lap |
| 14. | 09 – Marcus Ericsson | Caterham F1 Team | +2 Laps |
| 15. | 04 – Max Chilton | Marussia F1 Team | +2 Laps |
| 16. | 03 – Daniel Ricciardo | Red Bull Racing | RETIRED |
| 17. | 21 – Esteban Gutierrez | Sauber F1 Team | RETIRED |
| 18. | 99 – Adrian Sutil | Sauber F1 Team | RETIRED |
| 19. | 25 – Jean-Eric Vergne | Scuderia Toro Rosso | RETIRED |
| 20. | 17 – Jules Bianchi | Marussia F1 Team | RETIRED |
| 21. | 13 – Pastor Maldonado | Lotus F1 Team | RETIRED |
| 22. | 11 – Sergio Perez | Sahara Force India | RETIRED |