It was as everyone expected today in Monaco with the local hero (resident) Nico Rosberg on top at the end of the first practice.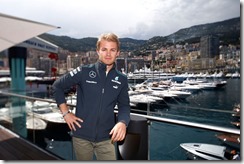 Rosberg ruled Thursday morning's free practice session on the narrow streets of Monte Carlo, pipping Ferrari's Fernando Alonso by just 0.087s while only one second covered the first eight cars.
The German driver lapped his Mercedes in 1:16.195s, and resisted the Spaniard's best effort of 1m 16.282s. Right at the end Romain Grosjean pushed himself up to third on 1m 16.380s for Lotus, forcing Felipe Massa into4th while Lewis Hamilton had to settle for fifth.
Massa caused a minor stir when he cut into the pits across the bows of Marussia's Max Chilton, while Hamilton had a moment when he ran wide at Ste Devote.  Adrian Sutil, had the biggest moment when he spun his Force India through 270 degrees at the same corner and his rear wing brushed a barrier. Luckily, for him he was able to limp back to the pits for a complete rear checkup of the car.
| | | | | |
| --- | --- | --- | --- | --- |
| Pos. | Drivers | Teams | Time | Laps |
| 01. | Nico Rosberg | Mercedes AMG Petronas | 1:16.195 | 31 |
| 02. | Fernando Alonso | Scuderia Ferrari | 1:16.282 | 27 |
| 03. | Romain Grosjean | Lotus F1 | 1:16.380 | 21 |
| 04. | Felipe Massa | Scuderia Ferrari | 1:16.394 | 23 |
| 05. | Lewis Hamilton | Mercedes AMG Petronas | 1:16.469 | 28 |
| 06. | Pastor Maldonado | Williams F1 | 1:16.993 | 27 |
| 07. | Mark Webber | Red Bull Racing | 1:17.020 | 27 |
| 08. | Jenson Button | Vodafone McLaren Mercedes | 1:17.129 | 29 |
| 09. | Sergio Perez | Vodafone McLaren Mercedes | 1:17.378 | 25 |
| 10. | Sebastian Vettel | Red Bull Racing | 1:17.380 | 23 |
| 11. | Kimi Raikkonen | Lotus F1 | 1:17.509 | 26 |
| 12. | Paul di Resta | Sahara Force India | 1:17.548 | 27 |
| 13. | Adrian Sutil | Sahara Force India | 1:17.625 | 20 |
| 14. | Nico Hulkenberg | Sauber F1 | 1:18.193 | 26 |
| 15. | Jean-Eric Vergne | Scuderia Toro Rosso | 1:18.454 | 25 |
| 16. | Esteban Gutiérrez | Sauber F1 | 1:18.754 | 28 |
| 17. | Valtteri Bottas | Williams F1 | 1:18.830 | 28 |
| 18. | Daniel Ricciardo | Marussia F1 | 1:19.067 | 25 |
| 19. | Giedo van der Garde | Caterham F1 Team | 1:19.203 | 21 |
| 20. | Charles Pic | Caterham F1 Team | 1:19.438 | 28 |
| 21. | Jules Bianchi | Marussia F1 | 1:19.773 | 20 |
| 22. | Max Chilton | Marussia F1 | 1:20.225 | 21 |