After three weeks break it was once again the Mercedes driver Lewis Hamilton who set the pace in first practice at the Spanish Grand Prix with McLaren's Jenson Button a surprise second.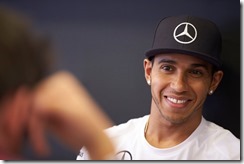 Hamilton was 0.868 seconds clear of Button as Mercedes continued their domination of Formula 1 meanwhile Red Bull's Daniel Ricciardo was third, 0.082secs behind Button, with Ferrari's Fernando Alonso fourth.
Hamilton's team-mate Nico Rosberg was fifth fastest after a troubled session in which he managed just nine laps and the German was stopped by overheating in his car's hybrid system, but co-team boss Toto Wolff said the car would be ready in time to go out in the second session.
| | | | | |
| --- | --- | --- | --- | --- |
| Pos. | Drivers | Teams | Time | Laps |
| 01. | 44 – Lewis Hamilton | Mercedes AMG Petronas | 1:27.023 | 17 |
| 02. | 22 – Jenson Button | McLaren F1 | 1:27.891 | 26 |
| 03. | 03 – Daniel Ricciardo | Red Bull Racing | 1:27.973 | 21 |
| 04. | 14 – Fernando Alonso | Scuderia Ferrari | 1:28.128 | 23 |
| 05. | 06 – Nico Rosberg | Mercedes AMG Petronas | 1:28.168 | 9 |
| 06. | 07 – Kimi Raikkonen | Scuderia Ferrari | 1:28.337 | 19 |
| 07. | 20 – Kevin Magnussen | McLaren F1 | 1:28.423 | 27 |
| 08. | 13 – Pastor Maldonado | Lotus F1 Team | 1:28.744 | 34 |
| 09. | 11 – Sergio Perez | Sahara Force India | 1:28.779 | 18 |
| 10. | 19 – Felipe Massa | Williams Martini Racing | 1:28.791 | 13 |
| 11. | 26 – Daniil Kvyat | Scuderia Toro Rosso | 1:28.792 | 24 |
| 12. | 27 – Nico Hulkenberg | Sahara Force India | 1:28.828 | 17 |
| 13. | 25 – Jean-Eric Vergne | Scuderia Toro Rosso | 1:28.859 | 24 |
| 14. | 40 – Felipe Nasr | Williams Martini Racing | 1:29.272 | 15 |
| 15. | 99 – Adrian Sutil | Sauber F1 Team | 1:29.688 | 16 |
| 16. | 17 – Jules Bianchi | Marussia F1 Team | 1:29.820 | 22 |
| 17. | 08 – Romain Grosjean | Lotus F1 Team | 1:29.944 | 21 |
| 18. | 36 – Giedo van der Garde | Sauber F1 Team | 1:30.440 | 22 |
| 19. | 04 – Max Chilton | Marussia F1 Team | 1:30.748 | 19 |
| 20. | 01 – Sebastian Vettel | Red Bull Racing | 1:30.942 | 4 |
| 21. | 21 – Kamui Kobayashi | Caterham F1 Team | 1:30.997 | 22 |
| 22. | 09 – Marcus Ericsson | Caterham F1 Team | 1:31.421 | 22 |