Lotus pilots Kimi Raikkonen and Romain Grosjean are more than ready to take the fight to McLaren and Red Bull for the remainder of the season or at least this is what Alan Permane think's.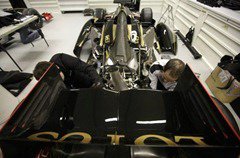 Lotus E20 shown that is a competitive car especially in qualifying but considering the streak of bad luck that hit both pilots, Romain having two DNFs and Kimi starting 18th in first race and being sent back to 10th on grid due to a gearbox change in Malaysia the true potential of E20 has yet to be revealed.
  Despite all that happened in Australia and Malaysia Alan Permane, the Track Operations Director of Lotus F1 is convinced that the team has the potential to fight for 3rd place in the Formula 1 World Championship. "It would be great to have an easy race without penalty and without incidents for Romain. I think McLaren and Red Bull are in front of us at this point. I know that Mercedes was the third team on the grid in Malaysia after qualifying, but their race pace is not good. We saw Nico Rosberg put intermediate tires in Malaysia when we were behind him, and I thought that we are in trouble. But after that his pace was the same, but it was worse than ours. Mercedes is faster than us in qualifying, but for now the race pace they have is not a problem." explained Permane.
  Ferrari is not a threat according to Permane, they are not ready to fight for a win, even if they did a great job in Malaysia they only managed to classify  9th and 12 at almost a second behind Lotus cars therefore they are not seen as a danger. Of course Permane admits that Ferrari will not rest and will continue to add improvements to the car but Lotus F1 Teams has also its development program and will not wait for its rivals to get close.
  While some of the teams like Ferrari and Sauber find better pace during the race that in qualifying Permane recognize that Lotus has the potential to be equally strong in both qualifying and race. Considering that in Australia Grosjean started 3rd and then Kimi in Malaysia was 5th and he could have been easily among the top 3 finishers. Alan Permane as well as Kimi Raikkonen have voiced their desire for a normal race with high hopes that this will happen in China and they will finally be able to tell where exactly E20 stands on the grid.
Image: © Lotus F1 Team