Pole Position for Lewis Hamilton who was absolutely flying around the Montmelo circuit and a surprise P2 for Pastor Maldonado while Alonso made happy the home crowd with well deserved P3.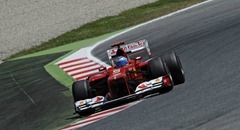 Within the Scuderia Ferrari, everyone had expected that the much talked about aero updates introduced in Barcelona would see the F2012 move more smoothly than usual into Q3, but the second row of the grid was beyond expectations. Lewis Hamilton took his third pole of the season, so no big surprise there, as he thus provided McLaren with its 150th pole in Formula 1. However, the paddock pundits were left awestruck when the name Pastor Maldonado finally emerged next to "P2" on the final qualifying time sheet. For the Williams driver it was his best ever performance in Formula 1 and must have been a heart-warming sight for Sir Frank Williams who is having an informal reception in the paddock tonight, to celebrate his recent seventieth birthday.
Already on Friday and again today, the fans have been out in force and although there is one other Spaniard, Pedro de la Rosa and a Spanish team, Hispania, on the grid, it's fair to say that most of the crowd only have eyes for Fernando. And this third place is a great opportunity for the Ferrari man to give them plenty to cheer about tomorrow. In the Drivers' classification, the man from Oviedo is only 10 points behind the leader Sebastian Vettel and the German could do no better than eighth today in his Red Bull, while Jenson Button and Mark Webber, who are ahead of the Spaniard in the championship are only eleventh and twelfth respectively on the grid at the Catalunya track. Alongside the F2012 on the second row is the Lotus of Romain Grosjean who just out-qualified his team-mate Kimi Raikkonen, the Finn thus sharing the third row with Sergio Perez in the Sauber.
In the other F2012, Felipe Massa had an unlucky afternoon, blighted mainly by traffic, as he got stuck far too often behind other drivers warming their tyres in preparation for a timed lap, while he was on his on new Soft rubber in Q2 going for a time. In such a tight field, with very small gaps between the cars, he finished around half a second off the tenth placed man and that insignificant gap was enough to put him back in seventeenth spot. 66 laps of this demanding circuit are going to present a tough challenge for the Brazilian tomorrow afternoon.
Info: Ferrari