Sebastian Vettel takes pole position as Red Bull bounce back.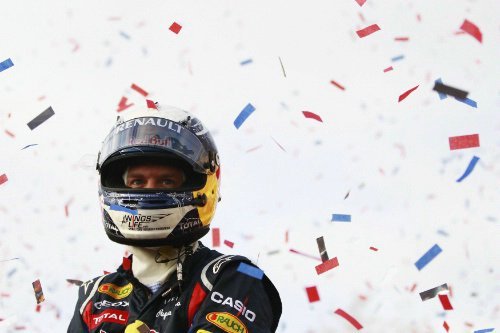 Qualifying today in Bahrain was very exciting as teams were challenged with trying to save tyres despite the track quickly evolving over time, meaning that the later lap times were often the quickest.
The first top driver who took the risk not to go out again at the end of Q3 but suffered the concequences was Michael Schumacher, who failed to get into Q2 and starts seventeenth following Pastor Maldonado's five grid place penalty.
Behind Schumacher is also Jean Eric Vergne in the Toro Rosso, Petrov in the Caterham, and both Marussias and HRTs who were within the 107% rule.
Felipe Massa again failed to qualify in the top ten, and he starts from fourteenth of the grid tomorrow.
The Red Bulls showed good pace this morning in Free Practice 3, and they managed to show that their sudden surge in speed isn't a one off as Sebastian Vettel took pole position, ahead of Lewis Hamilton who takes the second spot on the front row. Vettel's team mate Mark Webber starts third tomorrow ahead of Lewis' team mate Jenson Button who yesterday admitted to struggling with the car.
Rosberg who qualified on pole in China could only manage fifth today, which the Mercedes team will be disappointed with, especially as they admit to problems with tyre wear, which will be more evident tomorrow.
For full qualifying results, click here.