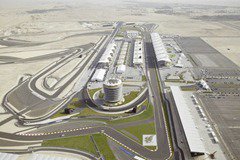 After last year race cancelation in Bahrain one would thought that the political situation in such a small country will be resolved in one year time, but it seems that are still problems there and all the Formula1 team bosses are expressing concerns about the situation there, but there is a general consent in the fact that FIA will be able to evaluate the situation from Bahrain correctly and to take the right decision to go or not to Bahrain in 2012.
  There are numerous reports that again there fight in the streets of Bahrain and if this will be over or not by the time Formula1 get's there is easy to understand that such an large event can easily produce more problems there.
  Speaking about this Sauber and Lotus bosses said that they are monitoring the situation closely but the final decision will be made by FIA. Sauber chief executive, Monisha Kaltenborn said:  "I think everyone, including the FIA and commercial rights holder, are concerned about the situation."
  "But we, at Sauber F1 Team, we're definitely not in a position to judge very well. We have to trust the FIA and commercial rights holder, who have more information in this regard. And if we think that is what right to go there, we will definitely go there." said Kaltenborn. The Lotus F1 team manager Eric Boullier, also spoke on the theme: "We want to be competing and we want to be running on each part of the world where we are welcome and Bahrain is one such place."
  As in Sauber, Eric Boullier also makes clear that is a decision that has to be taken by FIA: "But with the political situation in Bahrain, it is up to FIA to decide whether it is safe to go or not. Obviously is not an easy decision. We are awaiting the comments of the FIA, about whether we will or not able to go." The Lotus F1 team owner, Gerard Lopez, thinks that is the security of the event can be assured then he sees little reason for the event to be canceled: "All I can say is that Bahrain is a great country and I love being there, the people are nice there, and events have always been managed very well. What I've been hearing is that a number of guarantees have been given in terms of how things are going to happen and so on. Therefore, if things look good, then there is no reason why we should not be able to go  to Bahrain. " "If everything keeps going as usual then it would be wrong for the sport to be used as a political weapon, so if everything is ok then F1 should go to Bahrain" he said Gerard Lopez.