Romain Grosjean placed Lotus on top today after he managed in the afternoon to score a better time that Jenson Button from McLaren did in the morning session.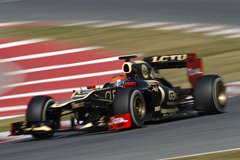 Grosjean brought smiles back in Lotus F1 garages today after the team was forced to cancel its entire schedule last week due to some chassis problems.
  They came back on the Spanish circuit with a modified chassis, and the British team started strongly in the last winter test with Romain Grosjean setting the fastest time of the Thursday session, the Frenchman being timed with: 1:23.252.
  Using the same strategy as before, Red Bull Racing did not focus on achieving a competitive time on this test session and finished only fourth with Mark Webber behind the wheel, while Nico Rosberg managed a 5th place and no less than 126 laps with his new W03 Mercedes AMG.
  Jean-Eric Vergne finished sixth for Toro Rosso in front of Paul di Resta from Force India, while Ferrari best time was only an anonymous place 8th with Felipe Massa at the helm but they have managed to pass the 100 laps barrier once more.
  Caterham F1 Team was once again a reliability king, with Vitaly Petrov enjoying himself over the 123 laps, he made today after he was called in to replace Heikki Kovalainen, who became unavailable overnight due to some food poisoning. Pastor Maldonado was last for Williams.
  HRT still hopes to be able to test the new F112 during the last day of testing at Barcelona (Sunday), while Marussia will not be present in Barcelona after the new car failed FIA's crash tests.
Today's results table:
| Pos. | Drivers | Teams | Time | Laps |
| --- | --- | --- | --- | --- |
| 01. | Romain Grosjean | Lotus F1 Team | 01:23.252 | 72 |
| 02. | Jenson Button | Vodafone McLaren Mercedes | 01:23.510 | 65 |
| 03. | Sergio Perez | Sauber F1 Team | 01:23.820 | 117 |
| 04. | Mark Webber | Red Bull | 01:23.830 | 101 |
| 05. | Nico Rosberg | Mercedes AMG Petronas | 01:23.992 | 128 |
| 06. | Jean Eric Vergne | Scuderia Toro Rosso | 01:24.216 | 113 |
| 07. | Paul di Resta | Sahara Force India | 01:24.305 | 98 |
| 08. | Felipe Massa | Ferrari | 01:24.318 | 105 |
| 09. | Vitaly Petrov | Caterham F1 | 01:24.876 | 128 |
| 10. | Pastor Maldonado | Williams F1 | 01:25.587 | 58 |