Romain Grosjean leads again in the sixth day of testing at Circuit de Catalunya, Barcelona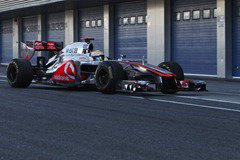 Romain Grosjean became this Friday the first driver who managed to be the fastest one on two different days during this pre-season testing. After being third in the morning, Grosjean had a very busy afternoon, completing 60 laps during a race simulation. During his simulation the young diver used soft and hard tires, and toward the end of the session ha managed to register the best time of the day stopping the clock at: 1:22.614 minutes.
  Jean Eric Vergne set the second best time of the day in the morning session and he was forced to remain in the pits for the afternoon session after his engine failed causing a Red Flag.
  Sebastian Vettel was the pilot who got up a position in the afternoon beating Alonso to 3rd, who was followed closely by Kovalainen who was running some fast laps using super soft tyres. Kamui Kobayashi also had a dull day spending most of his time in the garage due to some hydraulic problems with the C31. Michael Schumacher had an uneventful day if you will, finishing eight on the grid just before Lewis Hamilton and the two Williams drivers Bruno Senna and Pastor Maldonado.
| Pos. | Drivers | Teams | Time | Laps |
| --- | --- | --- | --- | --- |
| 01. | Romain Grosjean | Lotus F1 Team | 01:22.614 | 124 |
| 02. | Jean Eric Vergne | Scuderia Toro Rosso | 01:23.126 | 45 |
| 03. | Sebastian Vettel | Red Bull | 01:23.361 | 85 |
| 04. | Fernando Alonso | Ferrari | 01:23.447 | 125 |
| 05. | Heikki Kovalainen | Caterham F1 | 01:23.828 | 104 |
| 06. | Kamui Kobayashi | Sauber F1 | 01:23.836 | 77 |
| 07. | Nico Hulkenberg | Sahara Force India | 01:23.893 | 36 |
| 08. | Michael Schumacher | Mercedes AMG Petronas | 01:23.978 | 79 |
| 09. | Lewis Hamilton | Vodafone McLaren Mercedes | 01:24.876 | 65 |
| 10. | Bruno Senna | Williams F1 | 01:24.925 | 48 |
| 11. | Pastor Maldonado | Williams F1 | 01:25.801 | 20 |