Sergio Perez was the man with the speed today at Circuit de Catalunya stopping the clock at just 01:22.094 making this the best time registered at the Barcelona track in both pre-season tests sessions.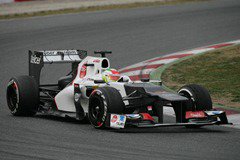 The third day of testing in Barcelona offered numerous changes both in terms of pilots, cars, and weather. The morning started more or less in the usual way and most pilots were running short stints, but in the afternoon the rain came for the first time during this winter tests and drivers were able to use the new intermediate rain tyres. Because of the rain the overall standings of the day remained set by the morning times.
  And for statistics lovers what is also worth mentioning is that all the cars were in the same second 1.22.xxx with Kimi making the exception and stopping the clock at 1:25.379.
  Sauber driver Sergio Perez set the best time of day and also the best time this year on the circuit in Barcelona, after being clocked with 1:22.094 behind the wheel of his C31.
  Red Bull Racing's main focus was the newly introduced upgrade on the RB9 making the clock the least of their concerns, this is why Mark Webber was only 8th on the grid. The Champions car, revealed today a new configuration of the exhaust system, very similar to what Sauber is using, while the Red Bull mechanics did their best to conceal the novelty of rival teams and the of the eyes of the press leaving us to wonder how all this will be put to practice in Australia.
  Ultimately HRT had to declare defeat on their attempt to have at least one day of testing before flying over to Australia, and confirmed that the team will not be present at Circuit de Catalunya tomorrow, but their press representative pointed out that the Spanish outfit is still hoping to have at least one day of "filming" with some other tyre compounds before the championship will begin in order to get some valuable data about the car otherwise they will have very similar circumstances to the last year's season start.  
  Marussia on the other hand is yet to pass FIA crash tests and is more than likely that they will shakedown the new car only in Australia and this only if they will pass the crash tests.
Todays fastest times:
| Pos. | Drivers | Teams | Time | Laps |
| --- | --- | --- | --- | --- |
| 01. | Sergio Perez | Sauber F1 Team | 01:22.094 | 114 |
| 02. | Jenson Button | Vodafone McLaren Mercedes | 01:22.103 | 44 |
| 03. | Daniel Ricciardo | Scuderia Toro Rosso | 01:22.155 | 131 |
| 04. | Felipe Massa | Ferrari | 01:22.413 | 122 |
| 05. | Paul di Resta | Sahara Force India | 01:22.446 | 108 |
| 06. | Bruno Senna | Williams F1 | 01:22.480 | 111 |
| 07. | Heikki Kovalainen | Caterham F1 | 01:22.630 | 64 |
| 08. | Mark Webber | Red Bull | 01:22.662 | 70 |
| 09. | Nico Rosberg | Mercedes AMG Petronas | 01:22.932 | 129 |
| 10. | Kimi Raikkonen | Lotus F1 | 01:25.379 | 43 |
Image: © Sauber F1 Team