Kimi Raikkonen ended the winter tests in the same way as he started them, by finishing first. If what he did is going to translate in the same manner starting March 18th then the "big teams" will have a real fight on their hands.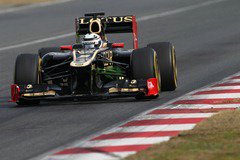 Today was the last day of pre-season tests and also the last day when valuable data about the cars could be collected. The pilots program was very similar to what it was in the previous days, they focused on short stints in the morning followed by racing simulations in the afternoon.
  Lotus and Kimi Raikkonen have ended the pre-season tests with a bang after 121 laps and with a time of only: 1:22.030 (the best time of the week) and it seems that they are sending a clear message that last year gremlins are gone. Alonso managed to get his Ferrari on the second place and everyone was under the impression that they've made a lot of progress understanding the new F2012 but then Pat Fry came along and said that the team is disappointed with the results and they don't have any big hopes for Australia. But to get back on  the positive side of things we need to mention Bruno Senna who was the surprise of the day after he managed a good 3rd position with the W34.
  Last on the grid today was surprisingly the World Champion Sebastian Vettel who made only 15 laps in the morning session and then he came back on the track only on the final minutes of the test after he broke the front wing of the Red Bull single-seater and then back in the garage the engineers found a serious problem with the gearbox leaving Vettel almost completely clueless about the new upgrades installed on the car.
  HRT and Marussia were not present at this tests but HRT will have a filming day tomorrow at the Circuit de Catalunya while Marussia are hoping to do the same in Silverstone next week.
Today results table:
| Pos. | Drivers | Teams | Time | Laps |
| --- | --- | --- | --- | --- |
| 01. | Kimi Raikkonen | Lotus F1 | 01:22.030 | 121 |
| 02. | Fernando Alonso | Scuderia Ferrari | 01:22.250 | 115 |
| 03. | Bruno Senna | Williams F1 | 01:22.296 | 53 |
| 04. | Nico Hulkenberg | Sahara Force India | 01:22.312 | 101 |
| 05. | Kamui Kobayashi | Sauber F1 | 01:22.386 | 72 |
| 06. | Lewis Hamilton | Vodafone McLaren Mercedes | 01:22.430 | 115 |
| 07. | Vitaly Petrov | Caterham F1 | 01:22.795 | 101 |
| 08. | Michael Schumacher | Mercedes AMG Petronas | 01:22.939 | 100 |
| 09. | Pastor Maldonado | Williams F1 | 01:23.347 | 48 |
| 10. | Daniel Ricciardo | Scuderia Toro Rosso | 01:23.393 | 100 |
| 11. | Sebastian Vettel | Red Bull | 01:23.608 | 23 |
Image: © LAT