Bernie Ecclestone has confirmed that he has reached to an agreement with France and Paul Ricard will be present in the Formula 1 2013 season.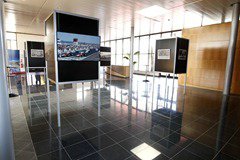 Negotiations between Bernie Ecclestone and French government representatives have successfully completed after many months of speculation about the country's return to competitive Formula 1 calendar. The 81yo Briton has revealed to the British media that a deal was struck with France representatives and the contract is ready to be signed.
"The deal is done," Ecclestone said to The Daily Telegraph. "We actually agreed on financial terms with the sports minister, David Douillet, in my office last Tuesday. We are still discussing a few points about money around the race, 'You give me this, I want that' and so on. But, for me, there is no doubt that we will sort it all out."
But according to the international press there are still more issues to be solved. First, the contract will be signed only after the second presidential election in France which will take place on May 6th and there's still a possibility for the new country rulers not to agree with Bernie's terms.
Also Paul Ricard does not have permanent Grand Stands and this is something that might hamper with the preparations for next year's race, and is a cause for many to think that the France 2013 Formula 1 Grand Prix will be held at Magny-Course circuit where F1 was present until 2008.
Source: Paul Ricard Circuit