Eric Boullier has admitted Nico Hulkenberg is Lotus' "choice" successor for the Ferrari-bound Kimi Raikkonen.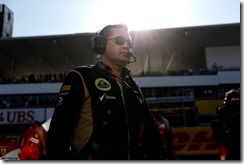 Raikkonen recently said he decided to leave the Enstone based team only for financial reasons. Lotus has been sweating on a deal with a group of private investors originally called 'Infinity Racing', who in June committed to buying 35 per cent of the team.
But team boss Boullier admitted as recently as at the weekend in Japan that the deal is still not sealed. In the meantime, Infinity has changed its name to Quantum, to avoid confusion with Infiniti, the luxury Nissan brand that is Red Bull's title sponsor. "We want to now close this Infinity partner story because this should give us the ability to at least be secure and move us on to the next step," said Boullier.
An obvious 'next step' is the identity of Raikkonen's successor. The clear frontrunner is German Hulkenberg, who was also considered by Ferrari and McLaren for 2014, and remains in the running either to return to Force India or stay at Sauber. But if the 'Quantum' deal falls over, Boullier may have to go down the path of a pay-driver, even if the Frenchman admits "This is not the way to go".
Boullier hinted at Suzuka that he is also in talks with a sponsor, as well as engine supplier Renault, who could deepen their relationship with Lotus in 2014 and beyond. If all the pieces fit together, Hulkenberg will surely be signed. "Since he has been talking to us he has been doing a good job," said Boullier. "I would love to (sign him)," he is quoted by Sporting Life. "He (Hulkenberg) is our choice."
Info: GMM, Image: Lotus