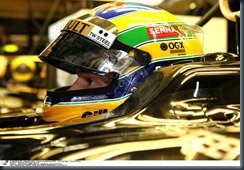 Well it seems that the wait is over and the big sponsors have won the battle. Bruno Senna supposedly signed for Williams and all is about to be revealed in just a few days. The news first appeared in Italian's newspaper Autosprint citing Brazilian sources.
  Among he's contribution as a driver Senna will bring with him at Williams a substantial financial support (approx. 14mil. EUR) from it's main sponsors OGX, Embratel and Gillette. And all seems set that after 18 years from the death of he's uncle we will have another Senna driving for the legendary team.
  Bruno won the "fight" for the Williams seat against Rubens Barrichello and Adrian Sutil, as Williams F1 struggles for money as well as for performance it seems that Sutil support of only 4mil. EUR which he get's from Medion (the German computer giant) was the main reason why he was not chosen.
  Now the only available seat remains with HRT, but the team does not seem to be in any rush to announce it's second driver after confirming Pedro DeLa Rosa as the 1st driver.