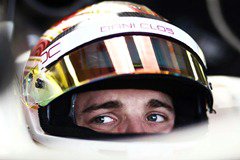 HRT is the surprise team I think, after failing it's first two crash tests with FIA and announcing that yet again they might lose the testing season and will fly to Australia with the car half build they have released a press communicate that now they also have a test pilot, something that the team never had.
  HRT F1 Team and young driver Dani Clos have reach to an agreement so the 23yo Barcelona born will become the team test driver.
  By adding Dani Clos to the team, HRT is taking a new step forward in it's development as an established Formula1 team and also sets the base as a launching platform for the young drivers to the the Formula1 world.
  Dani Clos will be a full time member of the team and will take park in some of the Friday's practices and various testing sessions, he will travel with the team at all Grand Prix's and the main goal this year is to familiarize him with the team and Formula1 atmosphere. According to the HRT a lot of work is expected of Dani but in return he would be able to count on the help of the he's fellow drivers Pedro de la Rosa and Narain Karthikeyan so that he will be able to move forward and one day become a full time driver in the Formula1 championship.
  Dani's first contact with the team was back in 2011 during the November's Young Driver's Day's in Abu Dhabi and considering that all went well for the team and also for the driver it was easier for both parties to reach a decision to continue together in 2012. He's first role as official test pilot of HRT starts in the 3rd official preseason testing which will be held in Barcelona in 1-4 March.
About the new deal Dani Clos said: "I am very proud to be part of the HRT Formula 1 Team. It is a big step in my career, something that I dreamed all life and finally is becoming reality, I am impressed with the work being done by the team and they are doing fantastic things in a very short period of time. Since we met in Abu Dhabi tests the team has changed lot and I think it's a great opportunity for me and I'm proud to be part of this new team. What HRT is doing is also very important for the motorsport  in our country and I think there is great potential here. Furthermore, to be next to Pedro is very important to me, as he and Narain can teach me many good things that will help me to grow as a pilot. I want to thank Saul Ruiz de Marcos and Luis Perez-Sala for trusting me and allowing to start a Formula1 career and especially I want to thank those who have always been by my side as Leonardo Soldevila and my father. For me it begins a new stage and the the work and dedication from my part will be total to be as productive as possible for the team, my colleagues and me. "
Luis Perez-Sala, HRT Team Principal added: "I am very happy to have Dani on the team, he's a fast driver, talented, and above all eager to progress. The incorporation of Clos is a further step in our restructuring plans and HRT team also meets our desire to promote promising young drivers. I hope this will be a great and positive experience for both parties. "