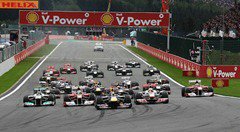 According to German press Renault and Red Bull are working very hard to find the adequate engine mapping in order to be able to compensate for the loss of the blown diffuser settings. This information did not only leaked into the press but some FIA officials also heard about it, and the reports coming from the FIA ruling body are not exactly what the teams that are using Renault or Mercedes engines want to hear while the blown diffuser has been banned the engine must operate in the same manner that it did last season.
  In theory the teams will soon have the specifications from FIA about what they are allowed and what they are not to do for the 2012 season and at the beginning of March there will be a reunion between teams representatives and FIA were they will address the issue. After this meeting any team that will fail to comply with the rules will not be allowed to start the season.
  Considering that the teams have designed the cars according to their interpretation of the new rules any modifications in how the exhausts or engines are working will have a huge impact on the overall structure of the car.