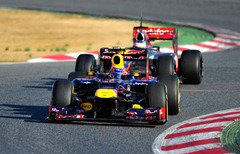 After at first allowing Ferrari and Red Bull to test on Monday now FIA has changed it's mind (as usual) but at least this time it seems that there is an regulation that forbids Ferrari and Red Bull's test to take place on Monday.
  Ferrari and later on Red Bull wanted to start their test run only on 2nd of March and continue until Monday but it seems that this plan has is breaching Article 22.4 of the Formula 1 Sporting Regulations.
This article stipulates that "No track testing may take place: a) Whilst a Championship Event is taking place, b) During the month of August and c) Between the start of the week preceding the first Event of the Championship and 31 December of the same year."
After being informed by F.I.A. about this Ferrari issued a press release about how are they going to to do the testing under the light of the new informations: "A further change of plan for the final test session prior to departure for Australia. Based on a new clarification of Article 22.4 of the Sporting Regulations, which was sent to the teams late yesterday evening, it is no longer possible to run on Monday 5 March: as a result, the test schedule for Scuderia Ferrari and the other teams that had originally decided to follow this option now reverts to that of the majority, running from Thursday 1 March to Sunday 4 March The order in which our drivers will be working remains unchanged: Felipe Massa will be at the wheel of the F2012 on Thursday and Saturday, with Fernando Alonso driving on Friday and Sunday."
  Red Bull, who were set to join Ferrari on the Monday, have also reverted to their original testing plans. They will run Mark Webber on the Thursday and Saturday, and reigning World Champion Sebastian Vettel on the Friday and Sunday.
Image: © F1 Fanatic