The criminal trial is only just beginning, but F1's board has already conceded that the Bernie Ecclestone reign is at an end.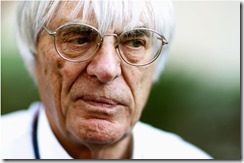 The banker he allegedly bribed, Gerhard Gribkowsky, is already in jail for receiving the $44 million, and a UK judge has also declared that the sport's 83-year-old chief executive paid a bribe. Still, Ecclestone's defence appeared to get a boost this week when it emerged that German prosecutors concede that the diminutive Briton was in fact blackmailed by Gribkowsky.
Writing in Forbes, and quoting from the indictment, F1 business journalist Christian Sylt explained that Gribkoswky was putting "pressure" on Ecclestone by "repeatedly insinuating" that Ecclestone had control of his family trust. Ecclestone claims he paid the $44 million only because Gribkowsky was 'shaking me down' over his personal tax affairs. "It seems to be a textbook example of blackmail," Sylt said.
Nonetheless, as the Munich proceedings begin on Thursday, the signs for Ecclestone are worrying. Writing in the Times, Kevin Eason said Ecclestone could avoid jail by accepting he is guilty and paying more than a staggering $400 million. Even so, the Ecclestone era is "over", Eason quoted a source close to F1's owners CVC and the board as saying. The report said the board has been advised by a London law firm not to keep Ecclestone in charge after a judge called him "untruthful and unreliable". The source explained: "In truth, it (Ecclestone's reign) has been over for a while, but Bernie has been allowed to continue as the face of the sport until this legal advice, which was devastating."