Toto Wolff, the Mercedes-GP motorsport executive director, says he believes Formula One's minnows can be saved from going out of business if they accept a range of proposals due to be aired at a meeting next month.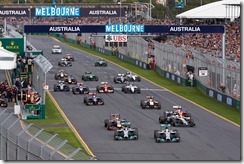 Earlier this year F1's Strategy Group – comprising Ferrari, McLaren-Mercedes, Mercedes, Red Bull Racing, Williams and Lotus – agreed to implement a cost cap, only to perform a U-turn to the fury of the smaller teams.
It resulted in Force India, Sauber, Caterham and Marussia writing a strongly-worded letter to FIA president Jean Todt suggesting a "financial disaster" lay in wait for the sport unless urgent controls were imposed to curb spiralling costs. Todt, F1 commercial rights owner Bernie Ecclestone and the teams will now sit down on May 1 to thrash out a way forward that will hopefully satisfy all concerned.
Wolff, who was initially in favour of a cost cap only to revise his opinion, feels there are other solutions to addressing the issue of growing financial problems on the grid. "We realised some of the other big teams could not follow that path [of a cost cap]," Wolff said. "Ferrari are a good example as they have everything – the road car business and F1 – in one entity, and it's difficult for them to have everything screened. "It doesn't make sense to go against two or three of the big teams, so going through the sporting and technical regulations is the way. "We're working to find the best solution. We're getting together in a few days, and we will try to implement what we can. "What we are looking for is a ceiling, so we are not running away in a spending war with the other teams, and for a glide path downwards so we can reduce the gap between the larger and smaller teams."
Red Bull team principal Christian Horner, who has long been against a cost cap, insists the bigger teams will do all they can to look after the smaller marques. "At the end of the day we have to have somebody to race against," Horner said. "The purpose and formation of the Strategy Group means there are teams in there who are in the same situation as Force India for example, or worse. "You've got Lotus, whose situation has been fairly dire for the last couple of years, and Williams, who are run on a tight budget. "They have key representation in the Strategy Group, so gauging their opinion is fairly important, so there is a balanced view in that discussion. "For me, the most effective way of controlling costs is through the sporting regulations because that has the biggest impact on your cost drivers. "If, as a group, we focus on those elements then we can really save significant costs for all the teams, the little and big teams."
There are currently 11 teams in F1, with Hispania Racing Team, who folded before the start of the 2013 season, the last F1 team to disappear from the grid.
Info: AP, Image: Mercedes GP