Felipe Massa has taken to Twitter to confirm his departure from Ferrari, paving the way for an imminent announcement regarding his replacement.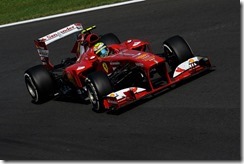 Massa, who joined the Maranello outfit in 2006, posted on his Twitter account: "From 2014 I will no longer be driving for Ferrari. "Thank you also to my wife and all of my family, to my fans and all my sponsors. "From each one of you I have always received a great support!
"Right now I want to push as hard as possible with Ferrari for the remaining 7 races. "For next year, I want to find a team that can give me a competitive car to win many more races and challenge for the championship which remains my greatest objective!"
Over the course of eight seasons, the Brazilian made 184 starts for Ferrari, winning 11 races. He has struggled for form and consistency recently, however, managing to secure only one podium place in 2013 so far. With Ferrari eager to lift their performances and challenge rivals Red Bull, management has opted to follow a different route in the coming season.
An announcement from Ferrari is expected soon with regards to Massa's replacement – widely rumoured to be Kimi Raikkonen. BBC Sport reports that 'the Finn's deal to rejoin the team for whom he won the world title in 2007 is said to have been completed on Monday and could be announced imminently'.
Raikkonen joined Ferrari from McLaren in 2007 and he won his maiden World Championship in the same year, but he left the team and the sport at the end of 2009 to make way for Spaniard Fernando Alonso.
Info: Yahoo.com, Image: Ferrari