Ferrari's Fernando Alonso has been voted driver of the year in a survey conducted by MoneySupermarket.com which took in the opinions of leading Motorsport websites.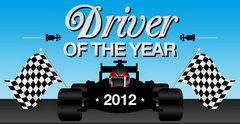 Each judge was asked to nominate an overall top ten based on the driving performances of the past 12 months, with points then being awarded based on F1 scoring system. The 2012 World Champion Sebastian Vettel had almost 25% fewer points than Alonso in a distant 2nd position.
It was a close competition between Lewis Hamilton and Kimi Raikkonen for 3rd, with the Briton eventually ending up on top. Hamilton took four wins over the course of the 2012 season, but lost a further four victories due to poor reliability and general bad luck. He will be hoping for better next year as he moves to Mercedes Benz.
There have been concerns about the quality of the Mercedes cars, but our judges didn't seem to rate the German squad's current driver line-up that highly; with Rosberg taking 9th despite his victory in China and Michael Schumacher ending his final season poorly in 13th position.
Jenson Button will be another who may well feel aggrieved about the results of this survey, with the British driver finishing in 6th position despite taking three victories over the course of the year. This put him behind his 2013 team-mate Sergio Perez, who took a very surprising 5th place.
Here is a full length infographic prepared by MoneySupermarket: