Felipe Massa "knows what he has to do" to stand a chance of salvaging his Ferrari drive for 2013, according to team boss Stefano Domenicali.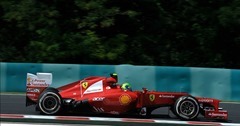 The Brazilian still has an opportunity to stay on in the second Ferrari race seat for an eighth season, despite the disappointing form that has seen him fail to finish on the podium since the 2010 German Grand Prix. Massa is currently 139 points behind his championship-leading teammate Fernando Alonso in the standings.
Despite Alonso holding a 40-point cushion over his rivals in the drivers' title chase, Ferrari is only fourth in the constructors' standings, 57 points behind leader Red Bull. With the Italian squad admitting that Red Bull, McLaren and Lotus all have faster cars at present, Domenicali said this was a critical moment for Massa to raise his game.
"I think Felipe knows [what he has to do]," said Domenicali. "He needs to maximize the performance that he can because we need his capabilities behind the wheel. We need points to try to attack first place in the constructors' championship, and also to take away points from the other drivers in the drivers' championship.

"He knows that he has in front of him some very important races for him as a driver and also as a team member for Ferrari."
Domenicali added that Ferrari acknowledged it could also help Massa by providing a quicker car.
"We need to improve the car and I'm sure he can do a good job," he said.
The situation regarding Ferrari's second driver for 2013 remains unclear. The team held talks with Mark Webber before he re-signed for Red Bull, and talk of a promotion for its protégé Sergio Perez after his early season success has cooled. Domenicali said Ferrari did not feel under any pressure to commit to a 2013 lineup.
"There is no rush on our decision," he insisted.
Info: Racer.com, Image: Ferrari.com
Find us on Facebook and Twitter for all the latest updates for the F1 2012 season