France will announce this Friday its official return to Formula 1 in 2013 after an absence from the "big circus" of 5 years.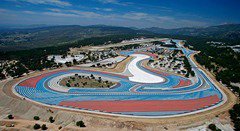 Paul Ricard circuit will host in this weekend the second race of the European LeMans Series and the France Prime Minister Francois Fillon and Hubert Falco the President of Toulon Provence Méditerranée will use this occasion to set up a press conference that will start at 16.30 GMT+1.
  According to the French media the main subject that will be discussed at this press conference is the return of France in the Formula 1 Calendar starting with 2013 knowing that the negotiations with Bernie Ecclestone were successful and French officials have agreed to invest 30 millions per year to make the event happen.
  The only true uncertainty was related to how France will alternate its own GP with the Belgian Grand Prix held at Spa-Francorchamps, while the neighbouring country asked for 5 million per year even in years when Belgium would not host races.
  The return of France in the Calendar is a good news given the fact that Europeans circuits were having big financial problems on the other hand the Belgian Grand Prix which is one of the most popular of the whole season will now take place only every two years.
Info: autohebdo.fr