The 2008 world champion endured another miserable afternoon yesterday after suffering a broken rear anti-roll bar early in the contest.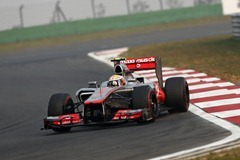 The issue forced him to fight with a severe lack of balance and tyres that were degrading abnormally quick for the majority of his 55-lap race, but then to epitomise his misfortune, a large section of the Korea International Circuit's synthetic grass got caught in his chassis in the closing laps.
Remarkably, Hamilton still finished in the points and Martin Whitmarsh, the McLaren team principal, offered nothing but praise for his driver, who will leave at the end of the season for the Mercedes works team.
"I thought it was going to be very unlikely he would get to the end of the race because I thought he would probably consume all the tyres we had available for him," Whitmarsh said.

"He showed really heroic fighting spirit to do a job, and despite what a terrible day it is, I have to come away incredibly proud of him and what he did in the circumstances to fight."
Hamilton started in fourth as he looked to close the gap on Sebastian Vettel and Fernando Alonso in the title hunt. He now concedes the chase is over after an afternoon spent battling with middle-order teams.
"I think in terms of winning [the title], I think that's it for us," Hamilton said. "We've had three failures in the last three races on my side of the garage, so I hope my luck changes. It wasn't particularly fun going backwards. A McLaren should never be fighting with a Toro Rosso; a McLaren should never be fighting with a Force India. But I put up as strong a fight as I could without colliding."
Whitmarsh hailed Hamilton's determination in the face of adversity, but it will be little compensation to a driver who knows next year's challenge is more about building a car than it is winning races.
"Most things that could go wrong did go wrong," Whitmarsh said. "He showed fantastic spirit and grit to get to the end and get the most hard-fought world championship point I can remember in the history of this team. For one point you don't get much more heroic a drive."
If Hamilton's day was bad though, his teammate Jenson Button's was worse. The 2009 world champion was forced to retire on the first lap when Kamui Kobayashi, the Japanese driver who finished third in Suzuka last week, went from hero to zero.
Kobayashi rammed into Button's wheel puncturing his tyre and leaving the Englishman fuming:
"It's very poor driving standards, considering this is the pinnacle of motorsport," he said. "It's not just a slight misjudgement, it's massive."
Info: The National, Image: McLaren
Find us on Facebook and Twitter for all the latest updates for the F1 2012 season