McLaren started the 2012 season in force. In the first race they managed to secure the front row at the start and at the end of the race both pilots were on podium.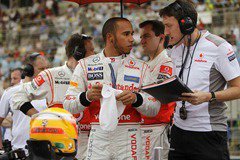 After the first  formula 1 race in Australia were Jenson Button won and Lewis Hamilton came third the McLaren team had reasons to be very optimistic and to believe that finally the Red Bull qualifying supremacy has come to an end. MP4-27 was again fairly constant over the next grands prix but in Bahrain the problems hit and both pilots as they were complaining about the car balance. During the race it became clear for everyone in the team that they need to improve on many levels since Lewis ended up running 8th and Jenson had to retire due to differential problems.
At first McLaren said that it will not participate in the Mugello test but now they have devised a plan for those and were planning to use the reserve drivers Oliver Turvey and Gary Paffett in all three days of testing. Learning this Lewis has asked the team to change the program so that he will be able to attend the tests.
"It might change," he said. "I need to get back in the car. We need to figure out why the tyres are going off. If there are other things to test or ways to figure out I will be the one to do it, not let someone else do it."
Hamilton is thankful for the long break before Barcelona and he is more than eager to get back into the car and try to identify what the problems are with the MP4-24.
"I think for us we need that gap. We have a lot of work to do. There is no quick fix. We really have to make some big improvements to the car because the qualifying pace is there but the race pace, at least today, was miles off."
And while he will be able to participate to the test his teammate Jenson Button will be engaged into McLaren promotional activities that will take place in Budapest where he will do a demo run into the hearth of the city.