Dr. Helmut Marko has openly admitted that Red Bull has a lot work ahead if they want to be on top of the grid once more. In past years Milton Keynes team has dominated the Formula 1 world, but their supremacy has come to an end with the starting of the 2012 season.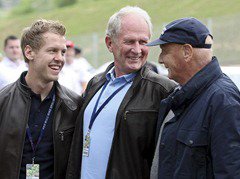 In 2011 Red Bull were unbeatable, and their younger driver the two times world champion Sebastian Vettel managed to get the maximum out of the RB7 and by doing this, the teams and the driver himself were world champions well before the end of the championship.
But it seems that things have not gone Red Bull's way this year and the energy drinks makers find themselves behind the Vodafone McLaren Mercedes team in the constructors championship while the best classified driver for the Red Bull's at this point is Mark Webber occupying the 4th place with 24 points.
Vettel after finishing second in Australia had to give up on points in Malaysia after coming together with Narain Karthikeyan and finishing just behind Michael Schumacher in 11th place. Still Marko is convinced that Adrian Newey and his team have designed a good car for 2012 and there is still a lot of potential in RB8 that needs to be unlocked.
Speaking of the Vettel gesture in Malaysia, Helmut Marko downplayed the complaints that have arisen from the Vettel's behaviour after the Malaysian Grand Prix, where he dedicated an offensive hand gesture to the HRT driver and than he called him "idiot":
"You are in a race and you see the option to be third vanishes. Obviously, you worry, and because he is a human being I think we can understand an emotional reaction."
Marko acknowledged that it's important that the RB8 performs well whatever the weather:
"It does not help to be the fastest under certain conditions you have to do it constantly. To be honest, right now is hard to say which car is the fastest."
In addition, Marko took the opportunity to defend Sebastian Vettel for the problem with Narain Karthikeyan:
"We have told our manager to talk with Marussia and HRT for their drivers simply pay more attention. They are in another league, about six or eight seconds slower than us and therefore they need to pay more attention to what they do. Vettel lost 12 points that can be crucial to the Championship."
Image: © GEPA Pictures/Red Bull