Lewis Hamilton described his pole position in front of his home fans at Silverstone as "incredible".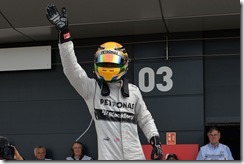 While Mercedes looked to have the quickest car throughout qualifying, Hamilton delivered a fantastic lap to take pole position by over 0.45s. It was his first pole position at Silverstone since his debut season in 2007 and Hamilton said it had felt just as special to deliver in front of the British crowd.
"It's incredible; it feels just like it did in 2007," Hamilton said. "Just to see the crowd here today is fantastic, such a great turnout for everyone so that was a lap for them. I hope that tomorrow we can do something special for them but this is really down to the team; they've just been doing a phenomenal job, improving the car constantly. I haven't been feeling 100% comfortable in the car all weekend so I was really happy to finally get a lap."
Looking ahead to Sunday's British Grand Prix, Hamilton said it would remain a tall order to hold off the Red Bulls over a race distance.
"I think undoubtedly it's going to be tough to keep Sebastian behind. But our long-run pace wasn't as bad as we've seen in the past so I'm hoping that with the temperatures and with a bit of care we can nurture the tyres to get a good result. I'm going to be pushing, giving it my all tomorrow – as I'm sure Nico will as well – to try and finish up ahead."
Info: ESPN EMEA Ltd. Image: Sutton