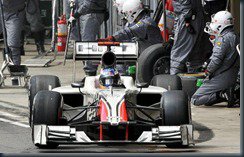 This seems to be the message that Hispania Racing Team has sent in the past few weeks to the world and there is one man in particular who seems to have the money as well as the team approval, this being the Dutchman Giedo van der Garde who published on he's tweeter page that he's training hard while expecting the news from the team for the possible driver seat.
The 26yo is not a stranger to Formula1 world, because he's been with McLaren Young Drivers program back in '06 and he tested for the Spyker team in '07.
The young Dutch driver has finished last year GP2 Series 5th and GP2 Asia Series 3rd and he sounds upbeat about he's possibilities to the HRT seat. The main source of funding for Giedo van der Garde is McGregor company owned by he's father in law Marcel Boekhoorn.
Although it may sound crude, the current Formula1 charge's for driving in many teams, there were always guys with big pockets who paid for a driving seat every now and then but todays times are much harder, in fact, except for the "big four" teams almost every pilot is at risk of having to pay for it's seat.
"Whatever happens, at least I have the comfort of never having to pay for a drive" said Felipe Massa in Madonna Di Campiglio last week, "but in the current F1 world money are more important than talent, and this should not be" added the Brazilian driver.
Truth being told until the first 2012 race will take place in Australia we cannot be sure that the driver's lineup won't change and as we all could see last year even after that there is no guarantee that some teams won't change their drivers, as Liuzzi said a modern Formula1 driver contract has no value.