Well now is official FIA denied HRT entry to the Australian GP and it seems that the Spanish team will start 2012 season in equal terms with the last one.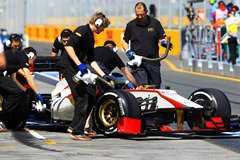 Team Results:
Australia 2012 – FORMULA 1 PRACTICE SESSION 3
Pedro de la Rosa F112-001 #22 23rd (12 laps) 1:33.114
Narain Karthikeyan F112-002 #23 24th (13 laps) 1:33.261
Australia 2012 -  FORMULA 1 QUALIFYING SESSION
Pedro de la Rosa F112-001 #22 23rd (6 laps) 1:33.495
Narain Karthikeyan F112-002 #23 24th (6 laps) 1:33.643
  Today was a complicated day for HRT Formula 1 Team after not overcoming the 107% time in the qualifying session at Albert Park and, initially, the team will not be able to take part at the inaugural Grand Prix of the season. Despite the hard work put in by the whole team and the fact that Pedro de la Rosa's and Narain Karthikeyan's cars made the most of the day's two sessions and completed around twenty laps each, it was not enough to set the necessary time to make it on to the grid for tomorrow.
  The team has applied to take part in tomorrow's race but FIA has denied the entry.
  Pedro de la Rosa: "We did all we could today. The team put in a great shift and just making it to today was an accomplishment for us, because these days have been very hard for all of us, including the drivers. But there's a lot of room for improvement and, although it's true that we have to change many things, we know what they are, so all I can say is that we need to be patient. I already said it when I arrived on Wednesday, this is a test for us, it's our preseason. The downside is that we're doing it in front of the cameras because everything is more evident. We should have done it before but we lacked the time, so now all we can do is work for Malaysia and the following races and focus on the important areas to make the car quicker".
  Narain Karthikeyan: "We knew it would be tough coming into Australia but today's result is hugely disappointing for any driver, there's no doubt about that. We can try and come up with excuses but, at the end of the day, we lacked preseason running time. We were up against it from the word go and yesterday's weather wasn't good which resulted in us losing a lot of dry running, hurting us badly. We've had a lot of issues with the car, which is something normal during preseason, but the problem is that this weekend was our own particular preseason and we were fighting against the clock. So there's a fair amount of work to do and hopefully we can improve and move on from this".
  Luis Pérez-Sala, Team Principal: "It's obvious that we still have a lot of work ahead to be where we should be and even more to improve on that potential, but today was the first time we were able to complete both sessions with both cars and that is positive. Although today wasn't the result we desired, we've fixed some of yesterday's issues and were able to spot out the weakest points. Now we can work on them and find a solution. These solutions aren't immediate but with every day and every session we're in better conditions. Time is precious and next week in Malaysia we'll have another four sessions to prepare for the next race".
Info: HRT F1 Team