Nico Hulkenberg on Sunday did not deny reports in Germany he has terminated his contract with Sauber.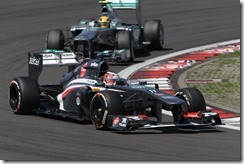 Having already not denied the struggling Swiss team's failure to pay him since May, the reports on Sunday had said the 25-year-old will continue to drive for Sauber in 2013.
But the German and his manager Werner Heinz have reportedly terminated the deal for breach of contract, meaning Hulkenberg is now free to leave Sauber at any time.
Rumours at the Nurburgring suggested Heinz has already been in talks with Lotus, while Hulkenberg has also been linked with a future move to Ferrari.
Asked on Sunday about the contract rumours, Hulkenberg did not deny the Sauber deal has been terminated. "Unfortunately I can't and I won't talk about contractual details," he told German broadcaster Sky. But "Clearly I need to take care of my future," Hulkenberg admitted. "Nothing is impossible or excluded."
Info: GMM, Image: Sauber F1 Team