Infiniti Red Bull Racing set the defence of its Formula One Drivers' and Constructors' Championship titles in motion today with the launch of its 2013 car, the RB9, in Milton Keynes UK.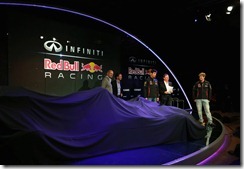 In front of an audience of team members, partners, guests and international media, drivers Sebastian Vettel and Mark Webber drew back the sheet to reveal the RB9, the final instalment in a generation of designs that have bought Infiniti Red Bull Racing 34 grand prix victories and six World Championships.
Nine times grand prix winner Mark and triple World Champion Sebastian were joined on stage by team principal Christian Horner, chief technical officer Adrian Newey and corporate vice president global marketing communications representing Infiniti, Simon Sproule.
Despite the largely unchanged nature of the technical regulations for 2013, Adrian Newey explained that the off-season was far from relaxed."It's a tribute to all the hard work of the guys over the winter because we had a very tight championship battle last year," he said. "It was difficult trying to continue development of last year's car while also doing research into the RB9. Obviously it worked for us, but it gave us a very tight timeframe to design and manufacture this car.
"RB9 is an evolutionary car," he added. "Probably the most significant change is not the regulations, but the new Pirelli tyres. We had a quick test with those in practice ahead of the Brazilian Grand Prix but in truth we didn't learn a lot because of the conditions. Pirelli have supplied us data about how the new tyres behave but past experience tells us that it's only when we go testing that we really find out."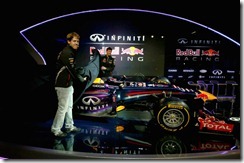 The continuity in Infiniti Red Bull Racing's driver line-up for 2013 is much more straightforward. Sebastian is beginning his fifth year with the team, while this will be Mark's seventh straight season with Infiniti Red Bull Racing, the longest-established team-driver combination on the 2013 grid.
"The fact that this is my seventh season with the team is a massive advantage," said Mark. "I couldn't have envisaged it when I joined and it's hard to believe that you could be with the same Formula One team for seven years, as continuity is not always easy to achieve in this sport.
"I think the way we keep people excited and motivated here is important," he added. "It's quite a small operation, but obviously we're big on ambition and desire and that makes us perform very well. I've really enjoyed the years I've had here so far and I can't wait to get going this season."
After a thrilling climax to the 2012 season which saw Sebastian claim his third title in as many years, the sport's youngest ever triple world champion has had the opportunity to recharge his batteries over the last two months and professed himself more than ready to begin the task of trying to win a fourth straight title, something done only twice before in the history of the sport.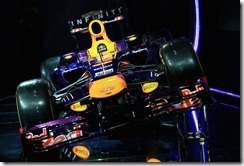 "We had a very strong finish last season, but it was hard as the season was so long – it was important for me to enjoy being home," he said. "Pretty soon though I started training again, preparing for the new season and I'm very excited because this is the first time I've seen the car in one piece. I've seen little bits, but it looks very nice, so now we'll get to see if it works as expected. I'm excited to get going again, to get back in the car, start testing and then go racing. Then, we'll finally find out where we are."
As Infiniti Red Bull Racing begins the defence of its world titles, Christian Horner emphasised the value of stability in the team. "The 2012 season was tough and long, but our success was testimony to all the hard work and dedication in the factory," he said. "We're fortunate that we've been able to maintain continuity within our group. This is the fifth year that this driver pairing has been together. We've got continuity throughout all of the technical teams and all the key areas. I think that's proof that there is a fierce determination to keep both of those trophies in the cabinet for another year."
Info & Images: Red Bull Content Pool