It's official the ex Formula1 driver Rubens Barrichello will drive in IZOD Indycar Series in 2012 for KV Racing Team.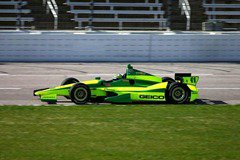 According to SpeedTV Rubens Barrichello who was axed by Williams F1 Team at the end of 2011 season in order to make room for Bruno Senna's bigger pockets will join KV Racing and will drive for them in the Indycar Series for the 2012 season.
  It was confirmed that Rubens Barrichello will be named to drive for KV Racing in the 2012 IZOD IndyCar Series in a  press conference that will take place this Thursday in Brazil.
  The informations also claimed that the 39-year-old veteran will be sponsored in he's Indycar adventure by the Brazilian construction company Brasil Maquinas.
  Rubens tested with KV Racing
  KV Racing co-owner Jimmy Vasser didn't return any phone calls today and is thought to be flying to Barrichello's homeland to be at the press conference when the announcement will be made. Tony Kanaan, who convinced his good friend and countryman to come and test an Indy car twice over the past month, is also keeping any new informations for himself.
  Barrichello, an 11-time winner in F1 with 322 starts, the two-time world championship runner-up (2002 and 2004) with Ferrari after being axed by Williams and with the chances of competing in his 20th F1 season looking slim, Rubens flew to KV's shop in Indianapolis last month for a seat fitting and then tested alongside Kanaan at Sebring, Fla.
  He also ran last weekend at Sonoma, California where he told SPEED's Marshall Pruett: "I can feel a sense of people wanting me to be here. Altogether, I have a lot of respect for the IZOD IndyCar Series as a sport and I want to be a part of it. Hopefully we'll get to a final conclusion, and I hope we are in it."
  And now he's in it.
  Rubens Barrichelo is the biggest name to come to Indycar racing since Nigel Mansell made the a similar move back in 1993 after winning the Formula1 World Champion Title.
Info: SpeedTV